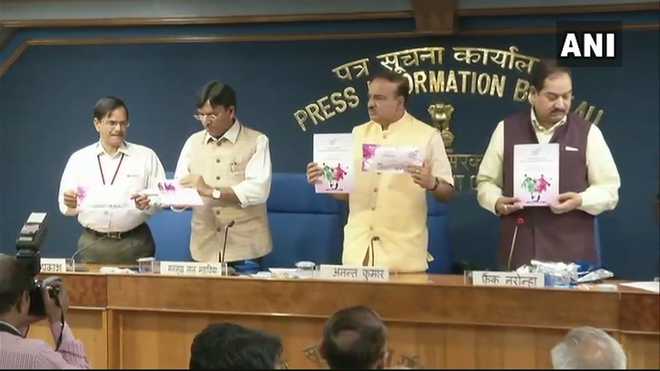 Aditi Tandon
Tribune News Service
New Delhi, March 8
The government on Thursday marked the International Women's Day by launching low cost biodegradable sanitary napkins to be available across 586 Indian districts through central medicine distribution outlets.
Called "Suvidha", this set of four napkins will cost Rs 10 as against existing corresponding prices for similar packs of non biodegradable pads being anywhere between Rs 30 to Rs 80.
"From the average price of Rs 8 a napkin we are bringing down the cost to RS 2.50. These are the first set of biodegradable sanitary napkins to be available in the market. These are much cheaper than Stayfree, Carefree and Whisper pads available in the markets," Minister for chemicals and fertilisers Ananth Kumar said.
The Suvidha napkins can be bought at all 3,200 jan aushadhi stores across 586 districts and are easy to use and dispose.
The government said low-cost sanitary pads are part of Prime Minister Narendra Modi's promise of delivering health products at affordable costs.
Earlier, the government reduced prices of 800 drug formulation including those used to treat cancers, diabetes and high blood pressure.
This was followed by drastic cuts in prices of cardiac stents and orthopaedic implants.
The low-cost sanitary pad launch comes amid a debate for making these products tax free.
But the government has been arguing over merits of exempting tax on non biodegradable sanitary pads being manufactured on huge profits by top companies.
Ananth Kumar today said Suvidha answered everyone's concerns by addressing all three challenges around sanitary pads — Suvidha, Swasthya and Swachhta.
Top News
The Khalistan sympathiser said if the state government had t...
'Let us not be selective,' Solicitor General said while insi...
Counting of votes will take place on May 13
Deplores attempts by Rahul Gandhi to draw parallels between ...
Petitioner sought more time from the court for producing evi...