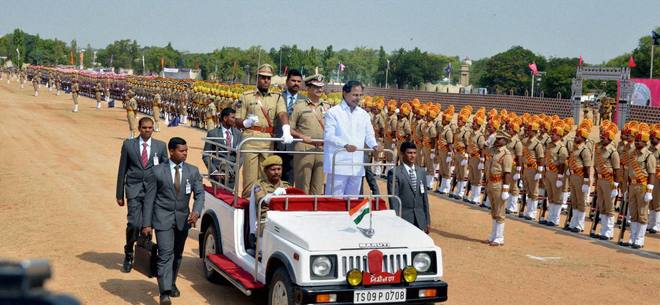 Suresh Dharur
Tribune News Service
Hyderabad, June 2
As Telangana, the newest state of India, celebrates its first birthday today, it has been a mixed bag of bouquets and brickbats for its Chief Minister K Chandrasekhar Rao, widely seen as an architect of the statehood movement.
On this day last year, Telangana state was carved out of the combined Andhra Pradesh, marking the culmination of decades of struggle by the people of the backward region. The Telangana Rashtra Samithi (TRS), led by Chandrasekhar Rao, took over the reins of the new state amid euphoria and high expectations. It has been a year of turbulence for Telangana as it was involved in bitter squabbling with the residuary Andhra Pradesh over a plethora of issues, including sharing of power, water, finances, assets and allocation of employees. Hyderabad being the common capital for the two states for 10 years has further added bitterness to the political war of words.
After leading an emotional statehood struggle on the ground that the backwardness in Telangana was a result of deliberate neglect by successive governments for six decades, the TRS is now grappling with an onerous task of putting development on a fast track while retaining its focus on the welfare agenda.
From a rabble-rousing champion of the statehood cause to a responsible administrator, the transformation of KCR, as Chandrasekhar Rao is known in political circles, has not been a smooth affair.
On political front, KCR's personal charisma has helped his party in luring as many as 13 legislators from other parties during the last one year, taking the TRS' tally in the Assembly from 63 to 76. However, his administrative performance and delivery on poll promises have been inconsistent and patchy.
While surplus budget and resurgence of "Brand Hyderabad" as a favoured international investment destination have been positive features, management of rural economy has been poor. Despite implementing the loan waiver scheme, a key poll promise of the TRS, there has been a spate of suicides by distressed farmers. Over 500 farmers have ended their lives in the last one year, notwithstanding the waiver of crop loans worth Rs 35,000 crore covering 36 lakh farmers.
Blending boldness with populism, KCR has earned the reputation for being a tough task master and his style of governance so far has been aggressive and firm in many ways. However, nepotism and family rule are the main charges against the government as Chief Minister's son KT Rama Rao and nephew T Harish Rao are key ministers in his Cabinet while his daughter K Kavitha is an MP.
Among the key successes of the government was the launch of two flagship programmes — "Mission Kakatiya", a massive initiative to renovate 46,300 tanks across the state at a cost of Rs 32,000 crore and "State Drinking Water Grid" meant to supply potable water to every household at a cost of Rs 35,000 crore.
However, the other important election promises like construction of two-bedroom apartments for weaker sections, three acres of cultivable land to Dalit farmers and free education from "KG to PG" are yet to take off.
By announcing liberal pay revision and regularization of contract workers, the TRS government has been able to keep the employees in good humour. However, the student community, which was the backbone of support for TRS during the Telangana agitation, is now up in arms against the CM's proposal to take over vast tracts of university lands for construction of houses for the poor.