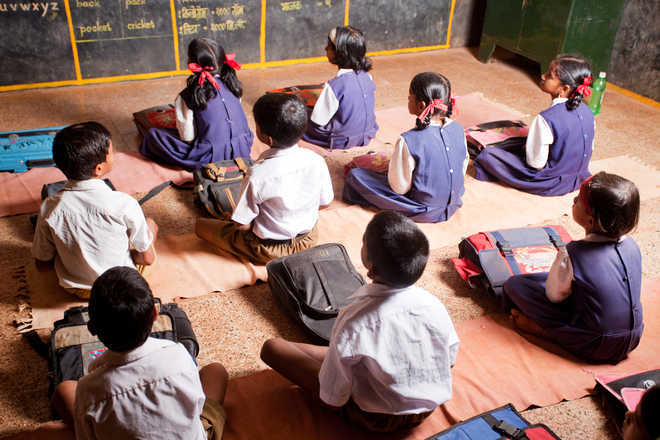 Smita Sharma
Tribune News Service
New Delhi, February 1
Education was hardly a focus area in the Budget announced by Piyush Goyal on Friday as the Union Government allocated 93,848 crore to the education sector.
The government's allocation to the Human Resource Development Ministry is only 3.3 per cent of the total Budget expenditure for 2019-2020.
The current allocation (56,386.63 crore for school education and 37461.01 crore for higher education) is a 10,000 crore hike from the revised estimate of 83,626 crore for 2018-2019.
However, Union HRD Minister Prakash Javadekar claimed that the Budget allocation in this sector is "phenomenal" and the government is "spending more in innovation, research and school education".
For school education sector, there is no fund this time for 'Digital India e-learning', but the same for the higher education sector has been increased from Rs 511 crore to Rs 579 crore for 2019-2020.
But Rs 50 crore has been earmarked for appointment of language teachers.
There is an Rs 500 crore increase in support for midday meal schemes while the allocation for madrasas and minorities remains unchanged at 120 crores.
The government's 'Beti Bachao Beti Padhao' slogan aside, the budget for National Scheme for Incentive to Girl Child for Secondary Education has been slashed from 255 crore to 100 crore.
While for the PM girls' hostels scheme, the budget stands at Rs 13 crore against Rs 30 crore allocated in the previous fiscal.
Funds for Higher Education Financing Agency (HEFA) have been reduced from Rs 2750 crore to Rs 2100 crore.
A not-for profit organisation, it uses funds leveraged from markets to finance improvement in top Indian institutions.
The actual spend last year by HEFA was only Rs 250 crore.
Also there is no allocation for national initiative on inclusion of persons with disabilities in higher education compared to Rs 2 crore chalked out in 2018-2019.
Of the Rs 35 crore chalked for M.Tech Programme Teaching Assistantship, nothing was spent and no fund has been allocated this year.
Top News
Asks not to spread fake news amid reports of her distancing ...
'US-India partnership is a cornerstone for a free and open I...
Rehana Fathima, a woman's right activist, was facing charges...
On August 3, 1991, Congress leader and brother of former MLA...
Injured admitted to hospital in Imphal where their condition...