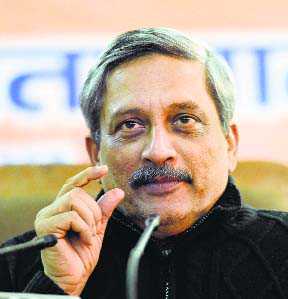 Tribune News Service
New Delhi, January 31
As retried veterans of the armed forces converge on the national capital to protest non-implementation of the "one rank-one pension" (OROP) scheme on Sunday, Defence Minister Manohar Parrikar today said the modalities will be finalised by next week and the file will be sent to the Finance Ministry for further action.
Parrikar, while speaking to mediapersons on the sidelines of a defence function, said: "Discussions are on to fix the modalities (for the OROP)... By next week, the view of the Defence Ministry will be formed."
The OROP issue has been fast-tracked, Parrikar said adding he had already held several meetings on it. The scheme was sanctioned by the previous government on February 17 last year. On February 26, the then Defence Minister AK Antony issued executive orders to implement OROP under the "approved" definition at the earliest.
Parrikar said as and when the exact implementation status for the scheme is finalised by the Defence Ministry, it will be sent to the Ministry of Finance. Parrikar had in December said if he could take the satisfaction level (of the retired armed forces personnel) to 80-90 per cent, it should be "a good enough solution". This had not been taken kindly to by the veterans who wanted a clarification on what the 80 per cent satisfaction level meant.
The Indian Ex-servicemen Movement (IESM) wanted to know the formula being adopted for OROP saying it would not accept OROP other than the one already accepted by the government.
The definition accepted by the Ministry of Defence is the one the Rajya Sabha Petitions Committee chaired by Bhagat Singh Koshyari suggested in December 2011.
OROP, it said, "implies that uniform pension be paid to armed forces personnel retiring in the same rank with the same length of service, irrespective of their date of retirement, and any future enhancement in the rates of pension be automatically passed on to the past pensioners."
Top News
Teams conducting raids to arrest the BJP leader
Jaishankar meets UN Secretary-General Antonio Guterres and P...
Canada is home to about 770,000 Sikhs - the highest populati...
Canada has alleged that Indian authorities were behind Nijja...