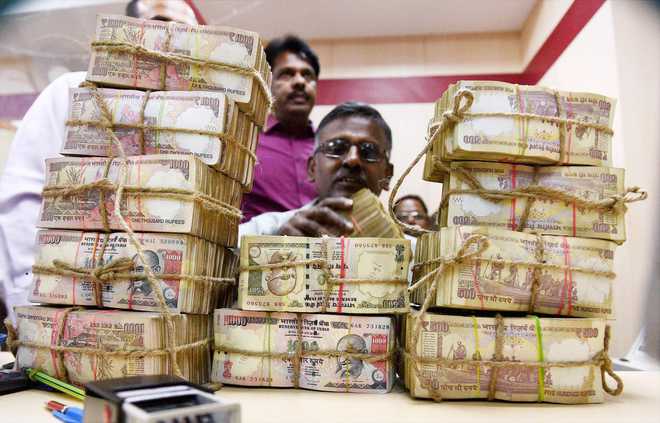 New Delhi, November 28
Providing yet another opportunity to black money holders to legalise their wealth, the government has proposed to tax at 50 per cent the unaccounted demonetised cash that is disclosed voluntarily till December 30, after which a steep up to 85 per cent tax and penalty will be levied on undisclosed wealth that is discovered by authorities.
The Taxation Laws (Second Amendment) Bill, 2016, introduced today in the Lok Sabha by Finance Minister Arun Jaitley, nearly three weeks after Prime Minister Narendra Modi banned high denomination currency notes, also provides for immunity from being questioned on the source of funds.
(Follow The Tribune on Facebook; and Twitter @thetribunechd)
It amends the Income Tax Act to also provide for black money declarants having to mandatorily park 25 per cent of that wealth in zero-interest, four-year-no-withdrawal scheme.
Introduced amid opposition uproar over hardships caused by demonetisation, the Bill proposes a Pradhan Mantri Garib Kalyan Yojana 2016 wherein the unaccounted, now banned 500 and 1,000 rupee notes, deposited in banks between November 10 and December 30, will be taxed at 30 per cent plus a 10 per cent penalty. A 33 per cent surcharge on the tax will take the total levy to 50 per cent.
Revenue Secretary Hasmukh Adhia told the media later that "the disclosures in PMGKY scheme will ensure that no questions will be asked about the source of fund. It would ensure immunity from Wealth Tax, civil laws and other taxation laws.
But there is no immunity from FEMA, PMLA, narcotics, and Black Money Act".
The Bill proposes to amend Section 115BBE of the Income Tax Act to provide for a steep 60 per cent tax and a 25 per cent surcharge on it (total 75 per cent) for black money holders who choose to disclose after PMGKY ends.
Another section inserted provides for an additional 10 per cent penalty on being established that the undeclared wealth is unaccounted or black money, taking the total incidence of levies to 85 per cent.
The scheme comes within two months of the close of domestic black money disclosure scheme wherein the total incidence of tax was 45 per cent. A total of Rs 65,250 crore in black money was brought to book by the close of the scheme on September 30.
"We have seen that some people were trying to convert black money to black again by using new currency," Adhia said adding that the provision has been amended to bring 75-85 per cent tax.
It proposes to make penalty provisions for wealth found during search and seizures more stringent by raising the fines to 30 per cent of the income discovered which is admitted by the assessee and taxes are paid.
This compares to levy of 10 per cent in such cases income admitted, returned and taxes paid and 20 per cent where income is not admitted but taxes are paid. In all other cases the levy remains at 60 per cent.
The current provisions of penalty on under-reporting of income at 50 per cent of the tax, and misreporting (200 per cent of tax) will remain and no changes are being made to them.
"In the wake of declaring specified bank notes as not legal tender, there have been representations and suggestions from experts that instead of allowing people to find illegal ways of converting their black money into black again, the government should give them an opportunity to pay taxes with heavy penalty and allow them to come clean so that not only the government gets additional revenue for undertaking activities for the welfare of the poor but also the remaining part of the declared income legitimately comes into the form economy," the Statement of Objects and Reasons of the Bill said.
Adhia said the Bill is not a retrospective amendment as the financial year is still on and people have not filed return.
He disagreed with questionnaire that this was an amnesty scheme saying tax and penalties proposed are steep.
Will be a 'money Bill'
The Bill has been brought in as a 'Money Bill' requiring consent of Lok Sabha alone. Rajya Sabha, where the ruling party does not have a majority, cannot make amendments in a Money Bill passed by Lok Sabha and transmitted to it.
Those who choose to declare their ill-gotten wealth stashed till now in banned 500 and 1000 rupee notes under the Pradhan Mantri Garib Kalyan Yojana 2016, will have to pay a tax at the rate of 30 per cent of the undisclosed income.
Additionally, a 10 per cent penalty will be levied on the undisclosed income and surcharge called PMGK Cess at the rate of 33 per cent of tax (33 per cent of 30 per cent).
Further, the declarants have to deposit 25 per cent of the undisclosed income in a scheme to be notified by the government in consultation with the Reserve Bank of India (RBI).
The money from the scheme would be used for projects in irrigation, housing, toilets, infrastructure, primary education, primary health and livelihood so that there is justice and equality, said the Statement of Objects and Reasons of the Bill.
For those who continue to hold onto undisclosed cash and are caught, existing provisions of the Income Tax law will be amended to provide for a flat 60 per cent tax plus a surcharge of 25 per cent of tax (15 per cent), which will amount a levy of 75 per cent.
Besides, if the assessing officer decides he can charge a 10 per cent penalty in addition to the 75 per cent tax.
Under the new Pradhan Mantri Garib Kalyan Yojana, besides 50 per cent tax, surcharge and penalty, a quarter of the declared income will be to be deposited in interest-free deposit scheme for four years.
Adhia said the deterrent provisions were necessary so that people have the fear of hoarding black money.
Deposits which have been already made from November 10 will be covered under PMGKY. "Last date, we will notify after the Bill is passed but it is likely to be December 30. PMGKY will come in as a new Chapter 9 in Finance Act 2016," he said. — PTI
Top News
South Korea's Joint Chiefs of Staff says the two missiles we...
The shooting takes place on Sunday at around 2.30 pm at the ...
Hits back at BJP | Cong brass holds 'satyagraha' for Rahul
Thakur was responding to repeated assertions by Rahul that S...