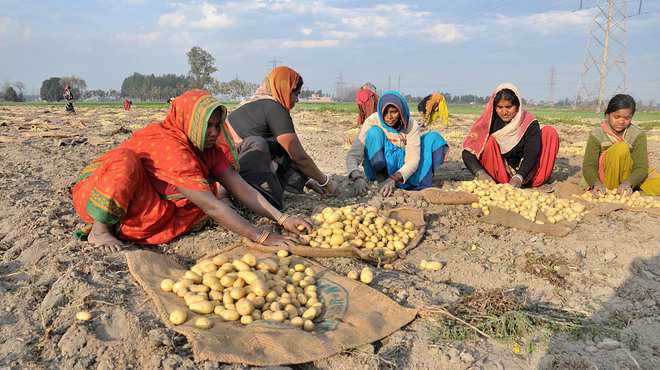 Tribune News Service
Ahmedabad, April 26
PepsiCo said on Friday that Gujarat farmers currently facing lawsuit should either stop using the protected variety or enter into an agreement with the company to sell the produce on its terms.
In a court hearing on Friday, the company said that the farmers could use its seeds and sell the produce to the company on terms it already offers to other farmers in the state.
Advocate Anandvardhan Yagnik, who represents the farmers in the case, told the court that farmers will respond once PepsiCo puts forward its proposal in writing.
Pepsico has sued nine farmers from Sabarkantha and Aravalli district for damages in two separate lawsuits—one for Rs 1 crore each from four farmers and another for Rs 20 lakh each from the remaining—for growing a variety of potatoes it claims under Plant Variety Protection (PVP) rights.
The two cases are currently at two different courts—one in Ahmedabad and another in Modasa.
Over 190 farm activists have for the central government's intervention.
The Protection of Plant Varieties and Farmers' Rights Authority Act 2011 exempts farmers from PVP rights, said Kapil Shah, who heads Jatan, an organisation dedicated to organic farming.
"India had designed a sui generis law of 2001 in compliance with World Trade Organisation's agreement on Trade-Related Aspects of Intellectual Property Rights. Under this statute, farmers' have rights under Section 39 with regard to seeds and planting material irrespective of any other clause in the Act," Kapil Shah of Jatan said.
"It is for the state government to ensure that farmers are not harassed. The company should immediately withdraw the case which is untenable," said Sagar Rabari of the Gujarat Khedut Samaj.
In a letter to the Ministry of Agriculture, 194 signatories have sought financial aid and protection of rights of farmers who have been sued for growing and selling a potato variety called FC-5 potato, for which PepsiCo India Holdings claimed to have obtained "exclusive rights in the country in 2016".
These representatives have sent a memorandum to Dr K.V. Prabhu, Chairperson, Protection of Plant Varieties and Farmers' Rights Authority, under the Union Ministry of Agriculture & Farmers Welfare, urging him to take immediate action.
PepsiCo claims exclusive rights by virtue of Plant Variety Certificate under the Protection of Plant Varieties and Farmers' Rights Act, 2001. The company claims farmers were illegally growing, producing, selling this particular variety of potato without permission in violation of Sections 64 and 65 of the Act.
Meanwhile, the company's spokesperson said: "PepsiCo India has proposed to amicably settle with people who were unlawfully using seeds of its registered variety. PepsiCo has also proposed that they may become part of its collaborative potato farming programme. This programme gives them access to higher yields, enhanced quality, training in best-in-class practices and better prices. In case, they do not wish to join this programme, they can simply sign an agreement and grow other available varieties of potatoes. It is significant to note that the company's collaborative potato farming programme is best in class and is built on strong backward and forward linkages that improve livelihoods by using protected seeds."
"The company was compelled to take the judicial recourse as a last resort to safeguard the larger interest of thousands of farmers that are engaged with its collaborative potato farming programme. PepsiCo India remains deeply committed to resolving the matter and ensuring adoption of best farming practices," he added.
Top Stories