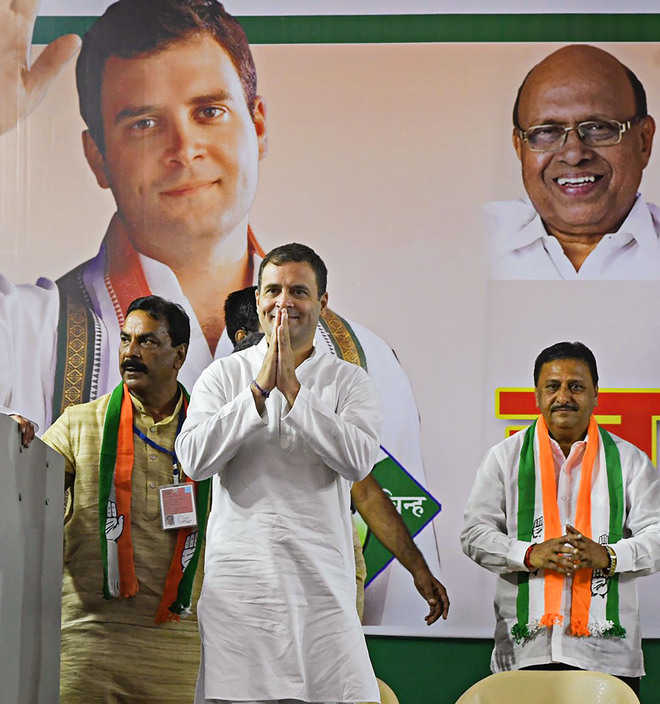 Tribune News Service
Mumbai, October 13
Prime Minister Narendra Modi and Home Minister Amit Shah are busy distracting people from core issues like lack of jobs and the agrarian crisis across the country, Congress leader Rahul Gandhi said today.
Addressing an election rally at Ausa in Latur this afternoon, Gandhi also accused the media of downplaying major issues affecting the country.
"The media, Modi and Shah are busy diverting the people's attention from core issues. The media is silent on farmers' distress and lack of jobs. The media is mum on waiver of loans for rich people as it is owned by them," Gandhi said at the Congress party rally this afternoon.
The former Congress president also referred to the failed Chandrayaan moon landing mission by ISRO. "When the youth ask for jobs, the government tells them to watch the moon. The government talks of Article 370 and the moon but is silent on the country's problems," Rahul Gandhi said.
On the recent meeting between Prime Minister Narendra Modi and Chinese leader Xi Jinping, Gandhi wondered whether the Indian PM asked his counterpart about the incursion into Doklam by the troops of the neighbouring country. "When the Prime Minister was having tea and snacks with the Chinese leader, did he ask him about Doklam?" Gandhi asked.
Regarding the loan restructuring programmes for companies, the Congress leader said Rs 5.5 lakh-crore debt of "15 rich people" has been waived by the Modi government. Gandhi further said the government under guise of demonetisation and the GST took money from the pockets of the poor and gave it to the rich.