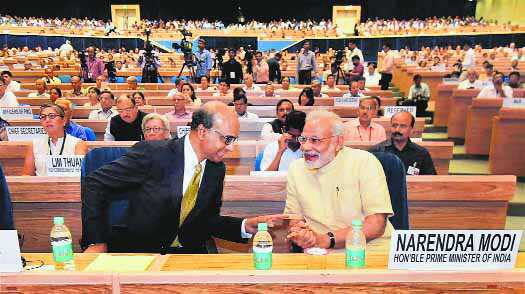 Mukesh Ranjan
Tribune News service
New Delhi, August 26
Enunciating his vision to rapidly transform India, PM Narendra Modi today said there was a need to change laws, eliminate unnecessary procedures and speed up processes to go beyond 'mere incremental progress'.
"If India is to meet the challenge of change, mere incremental progress is not enough. A metamorphosis is needed. That is why my vision for India is rapid transformation, not gradual evolution," he said at the first 'Transforming India' Lecture organised by the NITI Aayog here.
Singapore Deputy PM Tharman Shanmugaratnam suggested Modi to "speed up" reforms, saying: "You are on a good batting wicket and need to score in 4s & 6s every over."
Modi exhorted the audience, mostly policy makers (ministerial colleagues and top bureaucracy), by asking them to "convert individual idea into collective goals". He said: "As individuals, we may absorb new ideas by reading books or articles. Books open the windows of our minds. However, unless we brainstorm collectively, ideas remain confined to individual minds."
Modi sought fresh ideas to take the country forward. He said his government would seek inputs from eminent people abroad to transform India. "We will draw the best from the knowledge of eminent persons who made their nations a better place on the planet," he added.
"Our next step is to bring ideas from outside. Indians have always been receptive to ideas from elsewhere. This is the purpose of Transforming India lecture series," Modi said. Shanmugaratnam, a Sri Lankan-origin public policy doyen, said the biggest hurdles for investments in India were its land and labour laws. "Make in India can't be just make in India. It has to be make in India for the world," he said.
(With PTI inputs)
Top Stories