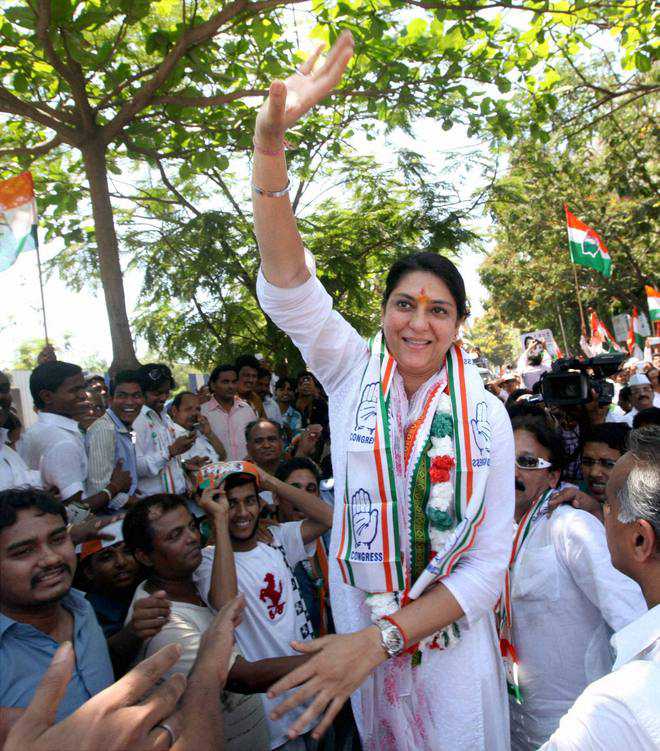 Shiv Kumar
Tribune News Service
Mumbai, April 27
The Mumbai North-Central LS constituency may be called the ultimate Mumbai-style VIP constituency. Here's where the starry-eyed runaways from upcountry end up to meet with their movie stars. The Khans — Salman, Shah Rukh and Aamir — live here. And for the politically inclined, Matoshree — the home of the Thackerays — falls in this constituency.
Mumbai North-Central is also notorious for low voter turnouts. Even at the height of the Modi wave in 2014, just about 48 per cent of the electorate showed up to cast their votes. More than residents of the highrises, party workers concentrate on wooing the slum-dwellers who account for more than half the voters here.
This time, sitting MP Poonam Mahajan is battling it out with Congress candidate Priya Dutt to retain the seat. In 2014, Mahajan rode the crest of the Modi wave bagging 4,78,535 votes, or 59 per cent of the votes cast, to convincingly defeat Dutt. Since then Mahajan's duties as leader of the BJP Yuva Morcha kept her busy to concern herself with issues concerning her constituency.
This is something Priya Dutt is hammering at in her public meetings. The soft-spoken challenger, who is more comfortable among smaller groups of voters, has been working the nooks and corners of Mumbai North-Central since March when the Congress president persuaded her to contest the elections.
"There has been no change in this constituency in the past five years," Dutt says at meetings where she listens to residents list their woes, including inadequate water supply, public toilets and school admissions for their children.
With minority Muslims and Christians accounting for 30 per cent of the electorate here, Dutt speaks against the Modi government's politics of hate and the climate of fear which the minorities have to put up with.
On the other hand, Mahajan is depending on BJP and Shiv Sena cadres working together to woo Marathi, Gujarati and Rajasthani voters who are around 40 per cent of the electorate. "This election is not about local issues. It is about the performance of the Modi government," Mahajan says in Marathi in a neighbourhood dominated by the local population.
After some minor hiccups the Shiv Sena cadres have joined the campaigning for Mahajan. However, Raj Thackeray's video presentations taking down the Modi government is a hot topic for discussion among the Marathi voters in this constituency.
However, what rankles with the local population is the near absence of the two major candidates in the last five years. "Priya Dutt had effectively retired after losing the elections and she even announced her formal retirement from politics. Poonam Mahajan was never seen here for the last five years," says Mohammad Ali Khokar, a resident of Bandra.