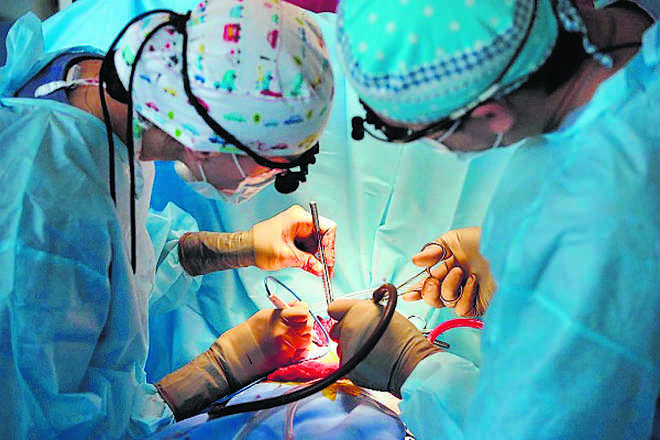 Aditi Tandon
Tribune News Service
New Delhi, September 11
Indian poor have mostly used free and cashless hospitalisation benefit available to them under the ambitious Ayushman Bharat plan to fix their hearts and knees.
An analysis of surgical and medical packages chosen by the poor and vulnerable families eligible under the project tells an interesting story. Of the top five procedures for which poor beneficiaries sought hospitalisation, four are related to heart.
Coronary angioplasty (single stent) has been the most used procedure since the scheme was launched last year. The other four top availed procedures and packages in the order of use are coronary artery bypass grafting (heart bypass), angioplasty (double stent), total knee replacement and mitral valve replacement.
All of the above procedures cost anywhere between Rs 1 to Rs 3.5 lakh in routine. However, the Pradhan Mantri Jan Arogya Yojana component of Ayushman Bharat project provides free hospital cover up to Rs 5 lakh annually to 10 crore poor and vulnerable families listed in the socio-economic caste census. All beneficiaries have been issued e-cards under the plan.
While coronary angioplasty is a minimally invasive procedure to open blocked coronary arteries, coronary artery bypass grafting is a procedure to improve poor blood flow to the heart. Mitral valve replacement surgery replaces a diseased mitral valve of a patient's heart with either a mechanical or tissue valve.
So far, as the highest utilisation under the scheme is concerned in terms of the number of claims raised for settlement with the Centre, Chhattisgarh topped the Greenfield state category followed by Jharkhand, Uttar Pradesh and Madhya Pradesh. Greenfield states are the ones that did not have any health protection scheme of their own before the launch of Pradhan Mantri Jan Arogya Yojana.
In the Brownfield category (states which had an existing healthcare protection scheme before PMJAY), Gujarat raised the maximum claims under the Central plan followed by Tamil Nadu.
Health Minister Harsh Vardhan today told The Tribune, "Ayushman Bharat launched in September 2018 has made a very good start. In India, every year almost six crore people go below poverty line due to very high expenditure to get treatment.
As of today, 30 states and UTs have partnered with the Centre to implement the scheme. Rajasthan and Punjab have launched their own schemes. Now only West Bengal, Delhi, Odisha and Telangana remain to come on board."
Government data shows over 41 lakh people have received cashless treatment worth Rs 6,500 crore across the country.
"One person is getting treatment every five seconds under the scheme," Vardhan said today, adding that 16,000 hospitals have been empanelled out of which half are private providers.
Top Stories