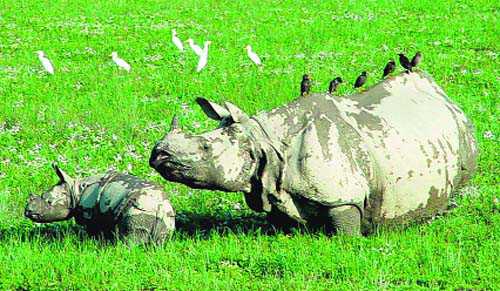 Biay Sankar Bora
Tribune News Service
Kaziranga (Assam), March 27
Rhino has become a major election issue in Assam this time. It is the precious one-horned rhinoceros that stands out in Assam's wildlife protection areas, especially Kaziranga National Park.
With unabated poaching of the endangered animal becoming a cause for concern among the Assamese, political parties of all hues have vowed to protect it, if voted to power. The BJP has gone to the extent of alleging that the ruling Congress had a nexus with rhino poachers. Over 100 rhinos were reportedly killed in the state over the past 15 years during the Congress rule. During their election rallies, BJP's star campaigners Narendra Modi and Amit Shah have called upon the voters to press the EVM button beside the lotus symbol to put an end to rhino poaching in the state.
"We have heard of the Congress indulging in rampant corruption and siphoning public money, but in Assam it has even resorted to eating up the rhinos in the wild. So, on the poll day you press the EVM button to hunt down the rhino hunters," Modi said at Bokakhat, near Kaziranga National Park, to woo voters.
BJP's ally Asom Gana Parishad (AGP) has promised in its manifesto to enact a stringent law to deal with rhino poaching besides setting up eco-sensitive zones in wildlife protection areas for bolstering the existing protection measures meant for Scheduled animals in the wild.
The ruling Congress, which often blamed involvement of militants armed with sophisticated weapons in rhino poaching, has promised to put in force a state-of-the-art mechanism to protect rhinos.
Wildlife conservationist Dr Bibhab Talukdar said, "It is a good sign that parties are promising to protect rhinos. We hope that these assurances don't turn out to be mere poll promises in the days to come."
"Villagers living on periphery of Kaziranga will have to be taken into confidence for rhinos' protection. Mere promises by parties will not suffice," said Kohora resident Akhil Gogoi.
Top News
Had complained to PM Modi about the activities of Brij Bhush...
Section 124A of the Indian Penal Code dealing with sedition ...
The postings and transfers of the officers have been made on...
Singh, in a Facebook post, said he has postponed the 'Jan Ch...
The representatives of various khaps and farmers' outfits re...