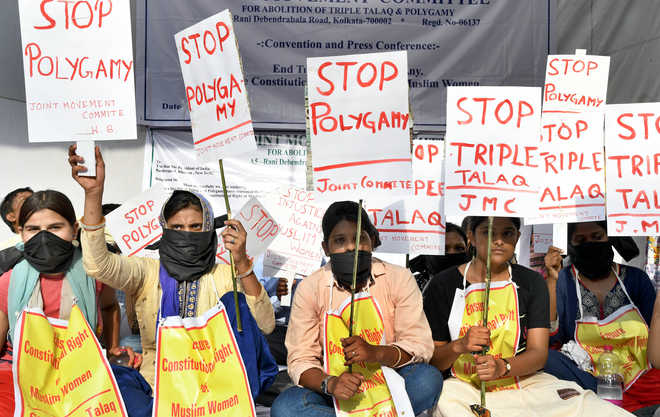 New Delhi, May 10
A protest was held on Wednesday at the Jantar Mantar here by some Muslim organisations demanding a ban on the practice of triple talaq.
The protest was organised by the Joint Movement Committee, including social organisations Reformist Muslim Society, Secular Mission, Common Platform of Progressive Muslim Society among others.
The Muslim women in the country are "suffering" because of the practice and it should be "banned", said professor Syed Tanveer Naseem.
"For the first time, the Muslim women have risen against triple talaq but Muslim Personal Law Board is not supporting them. We have faith in the judiciary and the Constitution of India," said convener of the committee Osman Mallick.
Social activists Nazima Khatun and Kazi Masum Akhtar also addressed the protesters. — PTI
Top News
Separatist still at large | 6 FIRs, 114 arrests so far | ISI...
Indian-Americans express outrage at the incidents of vandali...
Limited budgetary allocation for research in health is a maj...