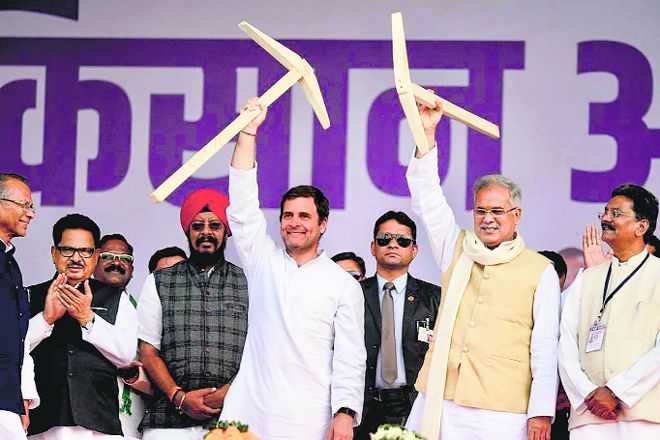 Raipur, January 28
Congress president Rahul Gandhi today announced his party would ensure "minimum income guarantee" for every poor person in the country, if voted to power.
The announcement comes ahead of the Union Budget, the last to be presented by the Modi government before the Lok Sabha polls this year.
It also follows the NDA government's decision to give 10 per cent quota to the economically backward section in the general category.
"The Congress has decided to take a historic decision... The Congress-led government will give minimum income guarantee. This means, every poor will have a minimum income. There will be no hungry, poor people in India (any longer)," Gandhi said, addressing a rally to express gratitude to Chhattisgarh voters, particularly farmers, for the Congress victory after 15 years.
Asserting that he gets done what he says, Rahul explained the minimum income guarantee would be implemented across the country. He later tweeted: "We cannot build a new India while millions of our brothers & sisters suffer the scourge of poverty." — PTI
---
Will be historic move: Cong chief
"The Congress will give minimum income to every poor person. No government in the world has done this till now. The Congress is going to do that, it will be a historic feat."— Rahul Gandhi, Congress president
Top News
The poll panel will announce the election schedule at 11.30 ...
Police say Amritpal was on his way from Delhi with three oth...
The occupants of the vehicle abandoned the car near Gurdwara...
They are likely to discuss certain issues common to both sta...
US State Department Deputy Spokesperson Vedant Patel condemn...