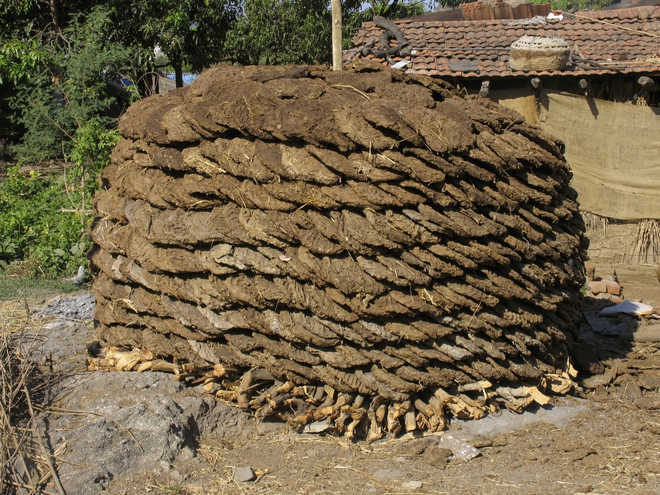 Jaipur, May 7
Three young entrepreneurs from Rajasthan's Kota city — otherwise known as an education hub — have taken their 15-year-old dairy farming family business to the next level and are now selling cow dung cakes on e-tailing site Amazon.
(Follow The Tribune on Facebook; and Twitter @thetribunechd)
"We found potential in this business. For the last three months, we have been selling cow dung cakes on Amazon," Amanpreet Singh, one of the three directors of APEI Organic Foods, said.
These cakes, about the size of a quarter-plate, are priced at Rs 120 per dozen. They currently have an average sale of 15 consignments — each of 500-1,000 cakes — per week.
"We are getting a good response, mainly from Mumbai, Delhi and Pune," Singh said.
The product is packaged in such a way that the cakes don't break.
For starters, the dung, which is a semi-liquid mixture, is first dried. It is then put into a circular die which goes through a heat-shrinking process. The finished product is then packed in cardboard boxes and dispatched.
Singh stated that the idea of reaching out to buyers online came due to the demand from Tier-I cities, where there is lack of any livestock management and dairies. "People basically want it for religious purposes in these cities," Singh added.
The company's livestock farm is spread over 40 acres near Kota and has 120 cows. It is equipped with modern infrastructure, effective connectivity, skilled manpower and other amenities.
The family-owned organic dairy milk brand is aptly titled "GAU" — meaning cow — but has been derived from the initials of the three directors, Gagandeep Singh, Amanpreet Singh and Uttamjyot Singh.
The promoters are likely to be in great demand at the forthcoming Global Rajasthan Agritech Meet (GRAM) being held in Kota from May 24 to 26.
Singh said that the fodder for the cows is grown organically in a healthy and well-nurtured environment. Waste from the dairy farm is utilised to produce electricity, gas, vermicompost and cowdung cakes.
The company has installed radio-frequency identification (RFID) on the livestock which helps them track the health and nutrition of the cattle from anywhere across the world.
The director claimed that this dairy farm also has Rajasthan's first biogas plant that generates electricity. This is the only source of electricity at the farm, producing 40 KW per day. This saves around Rs 24 lakh annually , he added. — IANS
Top News
The former military ruler had left Pakistan in March 2016 fo...
After his failed misadventure in Kargil, Musharraf deposed t...
Military shoots down the surveillance balloon in Atlantic Oc...
The incident took place on Friday when Kambli reached his fl...
CM said only manual excavation of sand will be permitted in ...