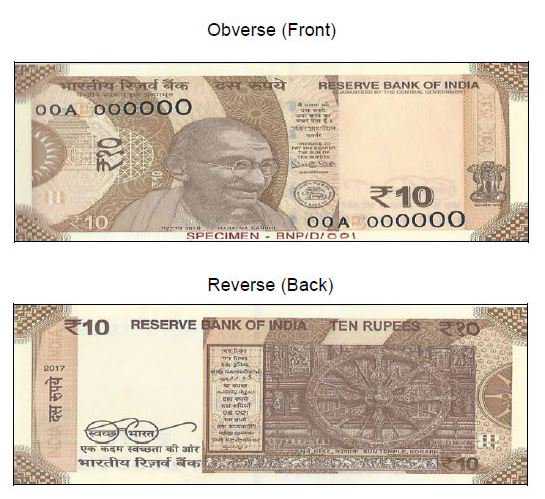 Mumbai, January 5
The country will shortly have new Rs 10 denomination notes in circulation, the Reserve Bank of India (RBI) announced on Friday.
(Follow The Tribune on Facebook; and Twitter @thetribunechd)
The new Rs 10 note in the Mahatma Gandhi series is designed in the base colour of chocolate brown and has the motif of the Konark Sun Temple in Odisha on the reverse, according to a release from RBI.
"RBI will shortly issue Rs 10 denomination banknotes in the Mahatma Gandhi (New) Series, bearing signature of Governor Urjit R. Patel.
"All the banknotes in the denomination of Rs 10 issued by the Reserve Bank in the earlier series will continue to be legal tender," it added.
Among salient features of the new note, the number panel on the note has the size of numerals growing from left to right.
In March last year, the RBI had announced plans to issue Rs 10 denomination banknotes in the Mahatma Gandhi series. The last change in design in the Rs 10 note was made in 2005.
Following the demonetisation of high-value currency in November 2016, the RBI issued new Rs 2,000 notes and redesigned Rs 500 ones.
According to RBI's annual report for the last financial year, the volume of banknotes increased by 11.1 per cent mainly owing to higher infusion of lower denomination currency after the government's demonetisation measure. — IANS
Top News
According to Rushdie's agent Andrew Wylie, nerves in his arm...
Natwar was Minister of State for External Affairs when Rushd...
All the four employees were dismissed from service under Art...
The exam was postponed for 11,000 candidates to accommodate ...
Had submitted resignation in Jan 2019 and floated his own po...