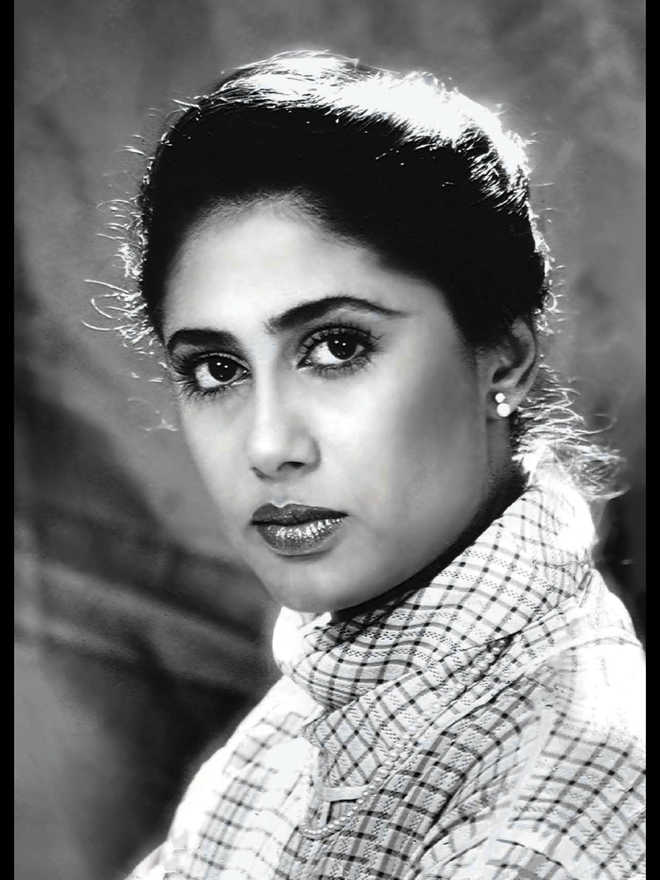 Rakesh Chopra

Smita Patil, the face that expressed a thousand emotions, would have been 61 this year had not God plucked one of the finest flowers of Indian cinema in the prime of her life. Two weeks after giving birth to son Prateik she died of childbirth complications on December 13, 1986, all of 31. But in just a decade she left a body of work that most don't leave in a lifetime.
Born in Pune into a politician's family, Smita had dark complexion and was often mocked as 'Kali'. During her college days, the family shifted to Mumbai, where a Doordarshan director saw her photographs and appointed her as a Marathi newsreader. Minutes before going on the air a reluctant Smita would hurriedly wear the sari over her jeans. But the poise with which she read the news won her many admirers, including film star Vinod Khanna, who would rush back from work to catch the evening bulletin.
Filmmaker Shyam Benegal chanced upon her as he saw her in an FTII diploma film and cast her in 'Charandas Chor'. It was a children's film and the year was 1975 when the parallel cinema was coming into its own. Then came 'Nishant' that pitted her against the redoubtable Shabana Azmi. Their professional rivalry continued till 'Mandi'. At the launch of 'Smita Patil: A Brief Incandescence', her biography by Maithili Rao, on the actor's 60th birth anniversary in October last year, Shabana recounted their love-hate relationship, saying they were good colleagues who could never be friends.
(Follow The Tribune on Facebook; and Twitter @thetribunechd)
Benegal signed her once again for 'Bhumika', which was based on the life of Marathi actor Hansa Wadkar. For her convincing portrayal of the legendary rebel, she walked away with the National Award for the best actress. Amol Palekar, her co-actor in the film, is on record saying that he was yet to see an actor in Indian cinema other than Smita who could convey myriads of emotions without uttering a word. 'Chakra' four years later brought her the second National Award besides the Filmfare trophy for the best actress. In the centenary year of Indian cinema, Rediff.com included her role of the gritty Sonbai in Ketan Mehta's 'Mirch Masala' as one of the 25 greatest performances in Indian cinema.
When a New Wave Cinema producer overlooked her for an important role as he wanted someone established in mainstream films, she was hurt. This made her try her luck in commercial cinema. She signed Ramesh Sippy-directed 'Shakti' and also starred in Prakash Mehra's 'Namak Halaal', where she did that rain song 'Aaj rapat jayen' with Amitabh Bachchan. It offended her sensibilities and even made her cry. But once she had taken the plunge, there was no going back. She signed film after film and even matched the dancing prowess of Mithun Chakraborty step for step in B Subhash's 'Dance Dance'.
Amitabh doesn't tire of recounting an incident that showed Smita could foresee things. He was shooting for 'Coolie' in Bengaluru when he got a call in his hotel in the dead of night, and a worried Smita enquired about his well-being, saying she just had a dream that something untoward had happened to him. And the next morning, he had that infamous injury on the sets. Smita visited him in hospital everyday bringing him flowers, the superstar reminisces of the "unique" woman. That was Smita, down-to-earth and caring.
In Mahesh Bhatt's 'Arth', Smita loves a married man and wants to settle down with him. The theme also played out in her real life as she fell in love with Raj Babbar, her co-actor in many films and a married man with two kids. The family did not take kindly to the revelation and stayed away from the wedding. The media also was livid as it could not stomach someone championing the cause of women on celluloid as a 'home-breaker' in real life. There were enough demands of the troubled marriage which the couple could not cope with.
It's been three decades since that arresting face left us, and today as I repeatedly hit YouTube for watching the 'Janam janam ka saath hai tumhara hamara' number from Raj-Smita starrer 'Bheegi Palkein', their cackling on-screen chemistry leaves a lump in my throat. Alas, their togetherness was short-lived as their real life could not live up to the haunting Lata-Rafi melody.
Top News
Congress leader will unfurl Tricolour at Lal Chowk City Cent...
Two frontline combat aircraft of the IAF crashed during a tr...
PM Modi also appreciated people for eating food items made o...
Sarpanches of Haryana to hold 'chakka jam' against Amit Shah...