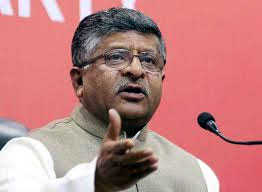 Tribune News Service
New Delhi, November 26
Law Minister Ravi Shankar Prasad today accused the judiciary of going against the doctrine of 'separation of power' even as Chief Justice of India Justice Dipak Misra countered the charge by citing specific cases.
Speaking at a Constitution Day function in the presence of Prime Minister Narendra Modi and a larger number of judges, lawyers, law academics and students, the Law Minister and the CJI indulged in what appeared to be candid exchange of views on issues of governance, policy and judicial overreach.
(Follow The Tribune on Facebook; and Twitter @thetribunechd)
Prasad said independence of judiciary can't be invoked in a manner that undermined importance of separation of power as both were part of the basic structure of the Constitution.
Emphasising that governance must remain with those elected to govern, the Law Minister said a fine balance between the legislature, the executive and the judiciary should be maintained. "PILs cannot become a substitute for governance." Prasad, however, sought to emphasise that the government respected the judiciary and its independence, saying, "we fought for it during the Emergency".
This was the second consecutive day that an NDA minister criticised courts for judicial overreach and advised judges to follow judicial restraint and avoid getting into policy issues. On Saturday, Finance Minister Arun Jaitley had said the argument that judicial activism was meant to fill the gaps left by other State organs was "flawed".
He had wondered if other organs could perform the functions of the judiciary citing arrears as an excuse.
Noting that the government accepted and respected the Supreme Court's verdict declaring the National Judicial Appointments Commission unconstitutional, the Law Minister criticised the judgment "as a student of law", saying mere involvement of the executive can't be cited as a threat to judicial independence. It needed to be reconsidered.
On his part, CJI Misra sought to dispel the impression that judges intended to run the country and cited specific cases to drive home the message.
Justice Misra, who spoke twice on Sunday, gave the example of rejection of a PIL demanding re-poll if NOTA votes were more than 50 per cent of the total voted polled in a particular constituency and its order setting aside a Calcutta High Court's order against movement of central paramilitary forces from the Darjeeling hills to Himachal Pradesh for conduct of elections.
He also cited certain paragraphs from Supreme Court's verdicts to emphasise that even the judiciary considered the PM to be a "repository of constructional trust".
The CJI, however, defended the role of the judiciary in protecting people's fundamental rights, saying "We are playing the role of a constitutional catalyst." He advocated mutual respect between various organs of the State with constitutional supremacy.
Top News
Shah appeals for surrender of arms, says dialogue only way f...
PM flags off cargo train from Bihar to Nepal
Mahapanchayat in Kurukshetra today to chalk out future cours...
2nd science topic to be removed by NCERT after Darwin's theo...