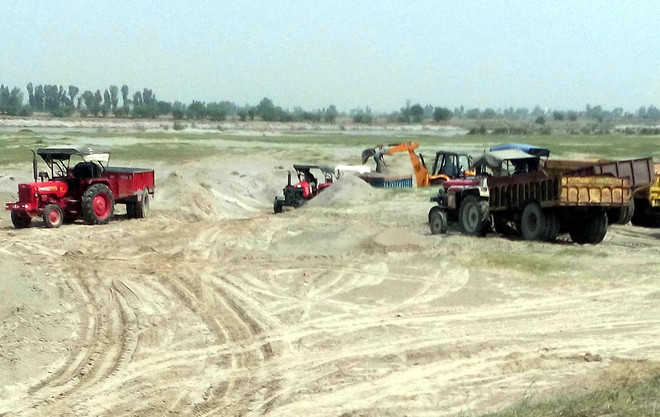 Patna, December 9
Main opposition Rashtriya Janata Dal (RJD) on Saturday announced that it would stage a protest march here on Monday against "faulty" sand mining policy of the Bihar government which it said has caused crisis of sand and concrete and rendered lakhs of labourers jobless.
"The RJD has decided to organise a march on Monday in the state capital, which will begin from party's state headquarters to Kargil Chowk (in Gandhi Maidan) to protest against Bihar government's faulty mining policy that has rendered labourers engaged in construction sector jobless," its National vice-president Raghuvansh Prasad Singh told reporters here.
Singh, a former Union Rural Development minister, said that the "faulty" mining policy of the Nitish Kumar government has resulted in crisis of sand and concrete thus seriously affecting the construction sector, including the government's projects.
The RJD leader did not highlight ills of the sand mining policy brought by the Bihar government recently to qualify his dubbing it as "faulty."
The JD(U), BJP coalition government after coming to power in July last came up with new policy to end illegal sand mining and regulate its trade in the state.
The RJD leader alleged the mining policy has rendered labourers engaged in the construction sector jobless.
The state govenrment should get all the labourers registered under Social Security Act failing which RJD will intensify its agitation, said Singh, a close associate of RJD chief Lalu Prasad.
Singh was accompanied by party's Bihar unit president Ram Chandra Purbey, ex MP Mangani Lal Mandal and former state minister Shivchandra Ram at the press meet.
"The crisis of sand and concrete has been prevailing in the state for over five months in the state due to mines and geology department's faulty mining policy and rules", Singh said.
It has not only affected the construction work in private sector but it has also hampered government's big projects such as Khagaul-Digha road, marine drive being built along river Ganga in Patna from Digha to Didarganj, he alleged.
The mining policy has resulted into rate of sand rising from Rs 2500 per tractor earlier to Rs 5000-Rs 10,000 per tractor now, Singh claimed.
In reply to a query on BJP's prospect in Gujarat where voting of first phase was completed, the senior RJD leader claimed that "people will bid adieu to BJP this time and it will any chance of making a comeback in future and will be wiped out from the country too". PTI