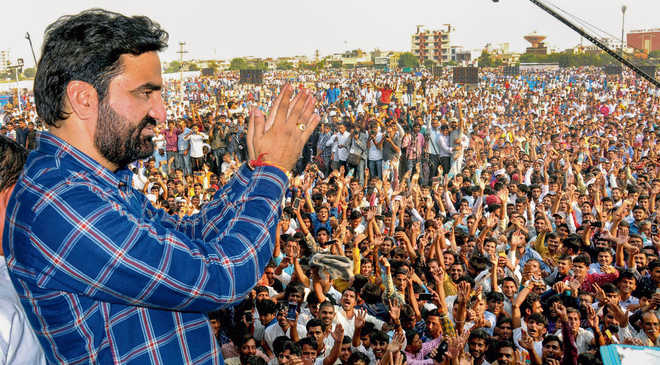 Yash Goyal
Jaipur, April 4
On the eve of the General Election, it is the NDA that has made an alliance with the state-level Rashtriya Loktantrik Party (RLP).
Other parties in Rajasthan — the BSP, CPM and BTP — have fielded their candidates on Lok Sabha seats in the state. The Congress has fielded contestants on all 25 seats.
The NDA and Rashtriya Loktantrik Party on Thursday made a pre-poll alliance and the BJP announced to give the Nagaur seat to RLP convener and its sitting MLA Hanuman Beniwal to contest.
Though the RLP will contest only the Nagaur Lok Sabha seat where the BJP will extend support to Beniwal, the alliance partner in return will support BJP-led NDA candidates not only on the remaining seats in Rajasthan but also in Haryana, UP and Delhi, the party's state incharge and Union Minister Prakash Javadekar and state president Madan Lal Saini told a joint press conference here.
"There is no hidden agenda or politics in it. The RLP has three sitting MLAs in the Assembly including Beniwal. He was a very old BJP leader who quit the party. Now, he is with NDA PM Narendra Modi," Javadekar said. He said the RLP would be a part of the NDA.
Beniwal, who is the sitting MLA from Khinvsar in Nagaur parliamentary constituency, will face Jyoti Mirdha, granddaughter of late Nathuram Mirdha, a veteran Congress leader.
Earlier, Beniwal had held a series of talks with Congress CM Ashok Gehlot for an alliance to defeat the ruling BJP. But the talks got stuck and the ruling Congress could not make up its mind to allow the Beniwal flock into the party because of his old links with the saffron brigade.
As the Congress ruled out an alliance with small parties, the BSP, CPM and Bhartiya Tribal Party (BTP) have decided to go it alone in the Lok Sabha poll.
Unequal alliance?
Though the RLP will contest only the Nagaur Lok Sabha seat where the BJP will extend support to Hanuman Beniwal (pic), the alliance partner in return will support BJP-led NDA candidates not only on the remaining 24 seats in Rajasthan but also in Haryana, Uttar Pradesh and Delhi
Earlier, Beniwal had held a series of talks with Congress CM Ashok Gehlot for an alliance to defeat the ruling BJP. But the talks got stuck and the ruling Congress could not make up its mind to allow the Beniwal flock into the party because of his old links with the saffron brigade