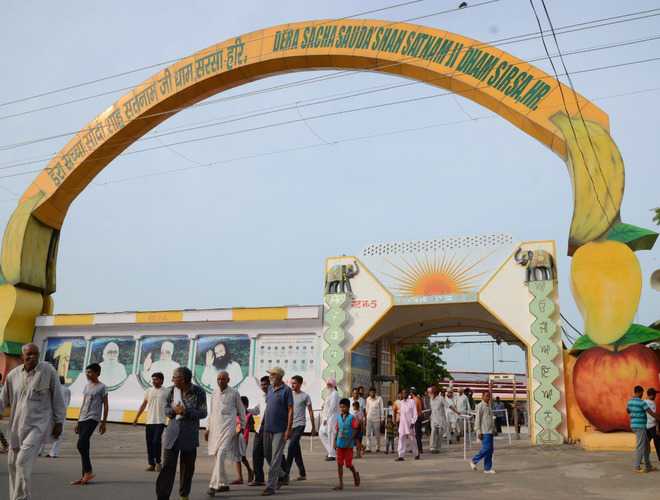 Sushil Manav
Tribune News Service
Chandigarh, August 24
Politicians cutting across party lines knelt before Gurmeet Ram Rahim Singh, people thronged his Dera Sacha Sauda in Sirsa in droves, and his writ ran not only in Haryana but also in neighbouring states till he was convicted of rape and sentenced to 20-year imprisonment on August 25 last year.
A year on, his Rs 2,000-crore business empire comprising 20-odd manufacturing units, a film production company, a mall, a cinema hall, a top-end hotel, retail shops and his MSG brand of consumer goods and fashion garments lies in tatters.
In the aftermath of the violence that left 36 dead in Panchkula and Sirsa following Ram Rahim's conviction, the dera factories were sealed ahead of a search operation by the Punjab and Haryana High Court-appointed Court Commissioner and accounts frozen. Also, the Town and Country Planning served notices for unauthorised constructions.
Dera's core committee members have since been arrested or are on the run. Members of the dera's top management — chairperson Vipassana Insan and senior vice-chairman Dr PR Nain — are in hiding and the day-to-day affairs of the sect are now being looked after by Shobha Insan who played second fiddle to Vipassana when Ram Rahim was at the helm.
Ram Rahim's family, which still lives in the dera, stays away from daily or weekly congregations and is seen only on occasions like birth anniversaries of dera's present or former heads.
The political leaders who once bowed before Ram Rahim are no longer keen to be seen alongside his disciples and the dera premises that remained abuzz with activity a year ago has very few visitors these days.
The dera's multispecialty hospital that once used to have its own skin bank, blood bank, chemist shops, etc. without statuary licences is now being run under the supervision of the Sirsa Civil Surgeon. A panel constituted by the High Court under the Sirsa DC monitors the accounts of eight educational institutions run by the dera so that its employees get salaries in time.
Sooraj (name changed), who ran a factory in the dera, says barring two units — one manufacturing pickles and a bakery — which were proprietor firms of individuals, all others are shut and their accounts seized on the orders of the High Court.
Sudhir, who runs a grocery shop in Sirsa, and his wife Suman were once followers of Ram Rahim and the conviction came as a jolt for them. "For two months, Suman ate just once a day after much convincing. She wouldn't let us turn on the television set for the fear of facing the truth. She gradually reconciled to the fact. We now visit a gurdwara for our spiritual needs," says Sudhir.
An ardent follower, however, claims the number of followers visiting the dera is on a gradual rise. "On August 15, which is also the birthday of Guruji (Ram Rahim), people visited the dera in thousands. Guruji's mother and other family members planted trees like the dera chief did in the past. Medical camps were organised where hundreds of people were treated," he says.
Sources say the number of people visiting the dera before conviction was 25,000 to 30,000 a day, while lakhs participated in annual events. Now, the daily gathering, which had fallen to near zero after conviction, stands at 4,000 to 5,000 per day.
Sirsa DC Prabhjot Singh admits there has been a gradual rise in the number of followers visiting the dera, but the administration can't stop them. "Unless we see a law and order problem, we don't have any issues. There hasn't been a single incident of violence in the past one year."
'Many lying low'
Most followers are lying low as probe is still on. No one knows when the police may come and pick them up, — A dera follower
Top News
Lived in self-imposed exile in the UAE to avoid criminal cha...
After his failed misadventure in Kargil, Musharraf deposed t...
Military shoots down the surveillance balloon in Atlantic Oc...
The incident took place on Friday when Kambli reached his fl...
CM said only manual excavation of sand will be permitted in ...