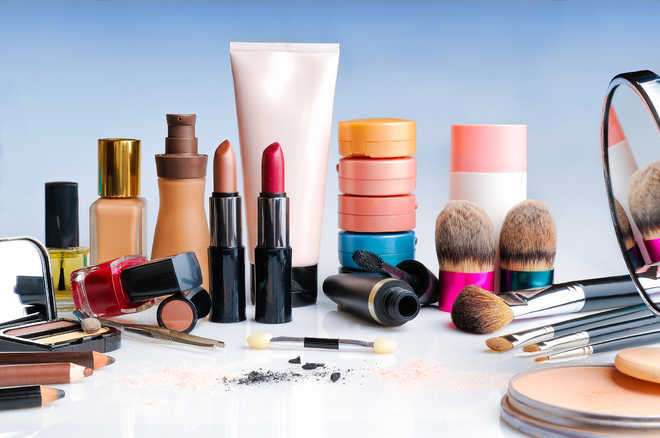 Aditi Tandon
Tribune News Service
New Delhi, October 6
The next time you go for any imported face-lifting, skin-whitening or hair fall solution, watch out and think twice. These products could well be laced with ingredients prohibited for use in humans and imported illegally into India for sale to unsuspecting consumers.
In the largest-ever raids on cosmetic makers across eight states through Friday and Saturday, India's apex drug regulator has seized banned products worth Rs 4 crore and registered five FIRs under the Drugs and Cosmetics Act, 1940, against manufacturers for endangering human health.
"We had formed 30 teams with 150 officers for raids in eight states. Ten seizures have been made at Delhi, Mumbai, Pune and Chandigarh involving cosmetics with products classified as harmful for human health," Drug Controller General of India S Eswara Reddy told The Tribune. Among the seized products are skin lightening, face-lifting, scalp enriching and hair fall solutions containing prohibited stem cell derived ingredients and other products.
The following cosmetics "rated as harmful" and routinely used in salons, have been seized — Sterile EO's Meso face-lifting threads, a non surgical face lifting treatment performed using threads; MCCM moisturising masks; Dermaheal's Stem C'Rum HL for preventing hair loss and a range of illegally imported cosmetics on Amazon. Drug inspectors have also confiscated lakia cell placenta ampoules imported from Germany (solutions for ageing and freckled skin); relumin advanced glutathione (skin whitening injections).
"Our intelligence cell tracked the sources of cosmetics sale, identified distributors of illegal imports and manufacturers of spurious and unlicensed cosmetics manufacturers and then conducted raids. We will now launch prosecutions and deposit seized products in respective courts," Reddy said.
Top Stories