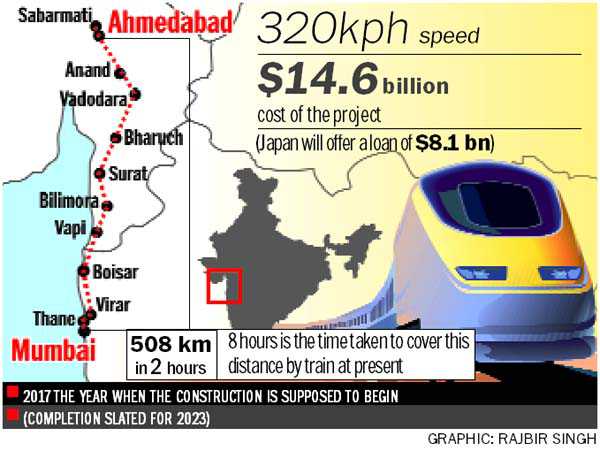 Mukesh Ranjan
Tribune News Service
New Delhi, December 20
With bullet trains going to be a reality in India in the next seven years in collaboration with Japan, Prime Minister Narendra Modi has decided to lay the high-speed track up to Mahatma Gandhi's Sabarmati Aashram in Ahmedabad. The train will run between Ahmedabad and Mumbai.
With the project being executed on Japanese assistance, Bandra-Kurla complex in Mumbai and Ahmedabad will be two ends of the high-speed corridor. Besides, Sabarmati will be a major stopover, which will also boast of the only depot for the ambitious project.
Under the plan, trains will start running on the proposed high-speed track by 2023. The joint Japan-India comprehensive feasibility study has pegged 35 trains each way every day which will go up to 105 trains by 2053. The study also pegs the fare at one-and-a-half times that of the AC first class tariff.
The corridor will consist of a 27-km-long tunnel and 64 per cent of the 508-km-long route will be constructed on embankment.
"To begin with, 9-12 train sets will run between Ahmedabad and Mumbai to ensure availability of a train every hour. A few train sets (electro-multiple units) will be imported, but they will be manufactured as part of the 'Make in India' initiative later," said a senior official of the Railway Board.
"There will be 12 stations on the corrdor — Mumbai, Thane, Virar, Boisar, Vapi, Bilimora, Surat, Bharuch, Vadodara, Anand, Ahmedabad and Sabarmati. A massive changeover facility will need to be created at Ahmedabad of trains for linkages with neighbouring cities in Rajsthan and other states," said the official, who added the corridor will be built on standard guage.
The Indo-Japanese study has pegged the cost of constructing the corridor at Rs 140 crore a km, the official said. "A separate company will be created under the ownership of the Indian Railways to run the trains on the high-speed corridor."
He, however, said there was no plan to allow private operators to run the bullet trains. The railways spends Rs 12 crore on laying a km of normal track.