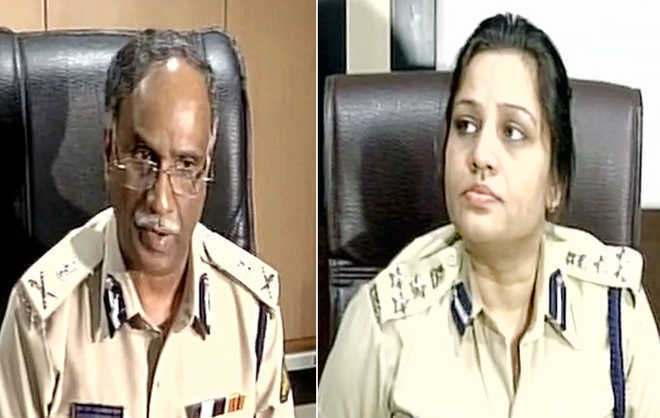 Bengaluru, July 13
AIADMK (Amma) chief VK Sasikala was being given preferential treatment at a prison here, a top police official has claimed amid a swirling suspicion of payment of Rs 2 crore to the official for it, prompting the government to order a probe into it.
Deputy Inspector of General (Prisons) D Roopa made the allegations in a report to her superior DGP (Prisons) HS Sathyanarayana Rao.
In a swift response, Chief Minister Siddaramaiah announced a "high-level probe" into the allegations as the two senior officers engaged in a bitter public spat.
In the four-page report after visiting the central prison on July 10, Roopa said a special kitchen was functioning in the central prison here for Sasikala, a convict in a corruption case, in violation of the rules.
"There are rumours that the kitchen is continuing to function despite the issue being brought to your (Rao) notice. There is also a talk that Rs 2 crore has been paid as bribe for this. As unfortunately these allegations are also against you, it is requested that you look into the matter and take merciless disciplinary action against erroneous officials," Roopa said in the report.
Rao, however, rubbished Roopa's charge against him, terming it "absolutely false, baseless and wild" and said he would take legal recourse against his junior.
He asserted no special treatment was meted out to anybody, adding that even in the matter of visitations, ministers, MPs and MLAs of Tamil Nadu were not being obliged.
Sasikala is lodged at the Parappana Agrahara central jail here ever since her conviction in February in a disproportionate assets case along with her two relatives VN Sudhakaran and Elavarasi, all serving a four-year jail term.
Taking "serious cognizance" of the allegations of irregularities in the central prison, Siddaramaiah ordered the probe and warned of "strict action" based on the inquiry report, if anyone was found involved in wrong doing. "Request all to await the outcome of this inquiry. Strict action will be taken against any person found guilty of wrongdoing," he tweeted.
The DGP said as a subordinate officer Roopa should have discussed it with him first, including the charges against him. "I'm open to any investigation. Instead she has gone to the media without any evidence," he said. Asked if he suspected any conspiracy against him, Rao said, "Maybe, there is some conspiracy. I do not know."
In her report, Roopa pointed out various "erroneous" practices in the prison, alleging that ganja was being consumed by several prisoners. She said during her visit, she conducted drug tests on 25 inmates and "shockingly" 18 of them turned out to be positive.
Defending her findings, Roopa told reporters that a copy of the report had been sent to the government, adding, "Let there be a fact-finding inquiry." — PTI