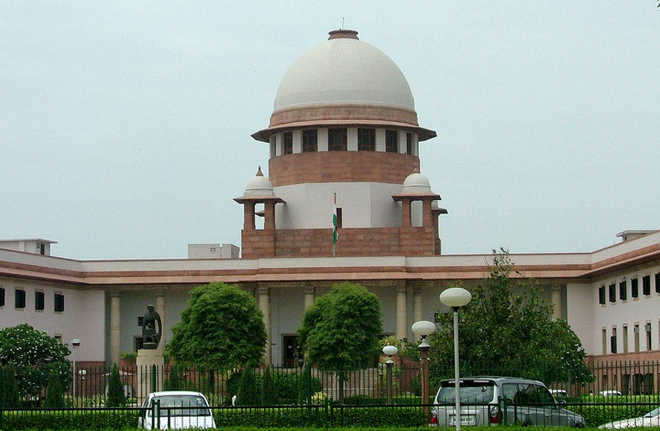 Satya Prakash
Tribune News Service
New Delhi, March 24
The Supreme Court on Friday asked the Centre to produce files pertaining to 199 cases relating to 1984 anti-Sikh riots closed by a Special Investigation Team (SIT) that was set up to re-investigate them.
A Bench headed by Justice Dipak Misra asked Attorney General Mukul Rohatgi that the files should be produced before it in three weeks and posted the matter for hearing on April 25.
(Follow The Tribune on Facebook; and Twitter @thetribunechd)
Two years after the Narendra Modi government set up an SIT to re-investigate serious anti-Sikh riots cases of 1984 that had been closed, the SIT has filed charge-sheets only in four of the 59 cases taken up for further probe.
Almost 3,000 people were killed, most of them in Delhi, in the anti-Sikh riots that broke out following the assassination of then Prime Minister Indira Gandhi on October 31, 1984.
In a status report filed in the Supreme Court last month, the Ministry of Home Affairs (MHA) said 38 of the cases taken up for further probe have been closed while 17 were still under investigation.
On Friday, Attorney General Mukul Rohatgi told the top court that four more cases have since been closed and now only 13 remain under probe.
However, the report had said: "It is being ensured that investigation is carried out expeditiously and thoroughly. No stone is being left unturned to ensure a thorough and comprehensive investigation."
The report was filed in response to the court's direction from the top court which is hearing a PIL filed last year on the issue.
The MHA – which extended the tenure of the SIT up to August 11, 2017 last month—has also written to the Delhi Government and the Delhi High Court for designating a single court for anti-Sikh riots cases.
The SIT has been notified as a Police station having jurisdiction over whole of Delhi.
Apart from the said 59 cases in which further probes were carried out, 293 cases were taken up for scrutiny and 199 of them have been closed, the MHA had informed the court in its status report. Of these, preliminary enquiries (PEs) were conducted in 35 cases and 28 PEs have been completed while 7 PEs were pending.
"A large number of representations relating to these cases have been received from Delhi Sikh Gurudwara Management Committee and other private persons/bodies which are being examined by the SIT and further necessary action is being taken," read the status report.
The SIT examined and recorded statements of more than 1,000 witnesses, including one witness from New York through video conferencing with the assistance of Consulate General of India, New York and Ministry of External Affairs, it had said.