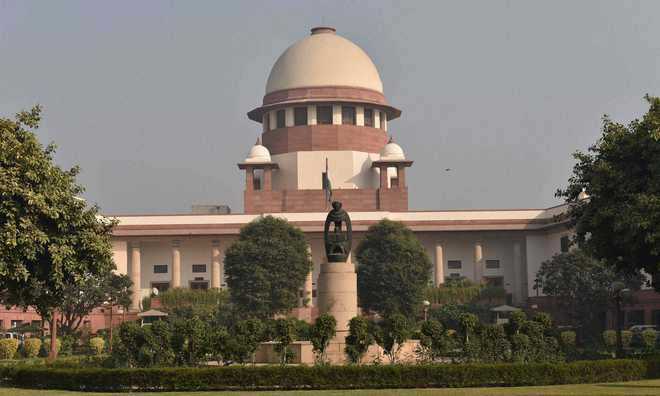 Satya Prakash
Tribune News Service
New Delhi, July 17
Noting that the "state cannot turn a deaf ear to the growing rumblings of its people", the Supreme Court on Tuesday ordered a set of preventive, remedial and punitive measures to curb mob lynching in various parts of the country.
A three-judge Bench, headed by Chief Justice of India Dipak Misra, recommended to Parliament to make a special law categorising lynching as a separate offence with severe punishment. "We have said so as a special law in this field would instil a sense of fear for law amongst the people who involve themselves in such kinds of activities."
The Bench, which included Justices AM Khanwilkar and DY Chandrachud, said such acts had to be curbed with an iron hand.
The Bench ordered the Centre and states to implement its order within four weeks and file compliance reports. It will further take up the matter on August 20.
"It is axiomatic that it is the duty of the state to ensure that the machinery of law and order functions efficiently and effectively in maintaining peace so as to preserve our quintessentially secular ethos and pluralistic social fabric in a democratic set-up governed by rule of law," the Bench said.
Pronouncing the verdict, the CJI said it was the duty of the state to ensure maintenance of law and order, pluralistic social fabric and rule of law in the country.
It ordered framing of a compensation scheme for victims of mob violence and said all such cases shall be specifically tried by designated/fast-track courts earmarked for that purpose in each district on a day-to-day basis and shall preferably be concluded in six months. This direction would apply to even pending cases, it added.
"To set a stern example in cases of mob violence and lynching, upon conviction of the accused person(s), the trial court must ordinarily award maximum sentence as provided for various offences under the provisions of the IPC," it said.
This is the second time that the top court has issued directions to check vigilante justice. In September last year, it had issued certain directions, including appointment of nodal officers, to prevent cow vigilante groups from resorting to mob violence against cattle traders.
"The exigencies of the situation require us to sound a clarion call for earnest action to strengthen our inclusive and all-embracing social order which would, in turn, reaffirm the constitutional faith. We expect nothing more and nothing less," it said. The Centre maintained that law and order was the responsibility of state governments and it has been issuing advisories to them on the issue. Still, the Bench said: "The Central Government shall also issue appropriate directions/advisories to the state governments which would reflect the gravity and seriousness of the situation and the measures to be taken."
Expressing concern over "growing numbness" about lynching, it said it was time for a clarion call to arrest the trend. "No citizen can take law into his hands or become a law unto himself," said the Bench.
The order came on PILs by activists Tehseen Poonawalla and Tushar Gandhi, seeking directions to check cow vigilantism that claimed several lives, including those in NCR. In recent months, around two dozen people had been lynched in various states by vigilante groups and mobs on suspicion of being child lifters.
Top Stories