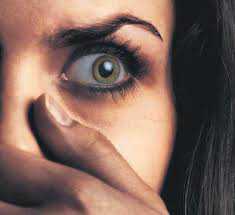 Satya Prakash
T he Supreme Court has once again refused to criminalise marital rape, triggering a fresh debate on one of the worst open secrets of Indian society. Last week, a Bench headed by Justice SA Bobde asked petitioner Anuja Kapur to approach the Delhi High Court, which was already seized of a petition on the issue. This is not for the first time that the SC has chosen not to deal with the contentious issue. In 2015, it had refused to entertain a woman MNC executive's petition seeking to declare marital rape a criminal offence. It had also rejected a PIL on the issue, noting it was for Parliament to take a call on the matter.
According to a National Family Health Survey report (2015), 5.4 per cent of married women between 15-49 years of age in India reported that their husbands had physically forced them to have sexual intercourse against their will. At least 2.5 per cent women reported that their husbands physically forced them to perform any other sexual act without their consent.
A United Nations Population Fund survey (2014) revealed that 52 per cent of the women surveyed had experienced some form of violence during their lifetime while 60 per cent men said they had acted violently against their wife/partner at some point in their lives.
In view of the nature and magnitude of the problem, activists have been demanding to make marital rape a criminal offence.
Section 375 of the Indian Penal Code defines rape as sexual intercourse without consent and against the will of a woman. But exception to the Section 375 says sexual intercourse by a man with his wife, who is 15 or above, is not rape even if it is without her consent and against her will.
But in October 2017, the SC ruled that sex with one's minor wife would amount to rape. It watered down the exception to Section 375 IPC which said sexual intercourse by a man with his wife not under the age of 15 would not amount to rape, saying it was inconsistent with the Juvenile Justice Act and the Protection of Children from Sexual Offences Act that fixed the age of consent of the girl at 18. But even after this verdict, marital rape in general continues not to be a crime as the SC refrained from making any observation with regard to marital rape. Even as India dithers, more than 50 countries, including the US, the UK, Canada, France, Mauritius, Sri Lanka and Bhutan, have already criminalised it.
The Law Commission (172nd Report, 2000) has opposed criminalising marital rape on the ground "that may amount to excessive interference with the marital relationship" and said forced sexual intercourse by a husband can be treated as an offence just like any other physical violence by a man against his wife.
But Justice JS Verma Committee (2013) said, "The fact that the accused and victim are married or in another intimate relationship may not be regarded as a mitigating factor justifying lower sentences for rape."
A parliamentary standing committee — which considered both reports — said if marital rape was made a crime, the family system will be under stress and it could lead to practical difficulties.
In 2016, the government told the Rajya Sabha the concept of marital rape, as understood internationally, cannot be suitably applied in the Indian context due to factors such as illiteracy, poverty, social customs and values, religious beliefs and mindset of the society to treat marriage as a sacrament.
Even if one agrees with the government's position that criminalising marital rape would adversely impact family system, the fact remains that lakhs of married women are subjected to sexual violence within the four-walls of their matrimonial homes. The issue needs to be addressed both legally and socially. Those favouring status quo maintain that marital rape is already dealt with under the domestic violence law and sexual violence against a woman amounts to "cruelty" which is a ground for divorce.
However, after the SC verdict declaring right to privacy a fundamental right, the legal position that there is presumption consent for sex under marriage appears to have changed. It's time to debate it afresh.
---
Democracy's dark side
One of the worst open secrets of Indian society, marital rape is yet to be covered under law
5.4% married
women (15-49 years of age) alleged their husbands physically forced them to have intercourse against their will
2.5% others
admitted their husbands physically forced them to perform any other sexual act without their consent
Source: 2015 Family Health Survey
Top News
Tensions flared between India and Canada after Trudeau's exp...
The bureau had launched an investigation into the matter bas...
Rudrankksh shoots 632.5, Tomar 631.6 and Panwar 629.6 to agg...
Victim claims her husband had borrowed Rs 1,500 from Pramod ...
Chinese consul general says relations between the two countr...