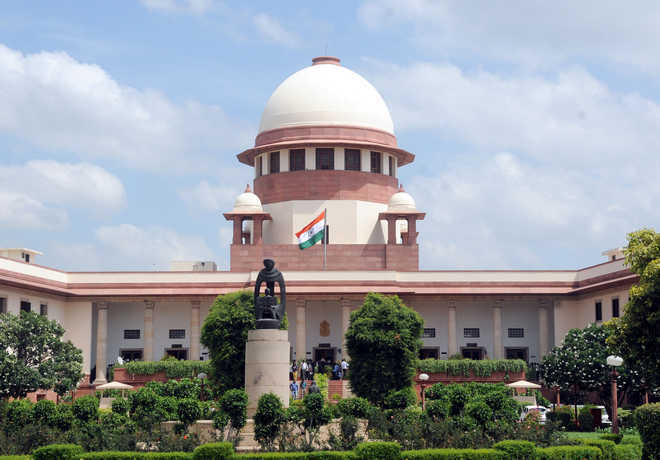 Satya Prakash
Tribune News Service
New Delhi, August 27
The Supreme Court has issued a notice to the Central Government in a petition challenging recently promulgated rules allowing the government to select members of various tribunals.
A three-judge Bench headed by Chief Justice of India JS Khehar on Friday asked the government to respond to the petition filed by the Armed Forces Tribunal (AFT) Bar Association founding president Navdeep Singh, who wanted the top court to strike down of the impugned rules.
He has challenged the validity of the provisions of the Tribunal, Appellate Tribunal and other Authorities (qualifications, experience and other conditions of service of members) Rules, 2017.
Singh cited the example of the AFT that has been placed under the complete hold of the Ministry of Defence MoD), which is the first opposite party in every case before the tribunal dealing with service matters of Armed Forces' personnel.
The petitioner objected to the Defence Secretary being made a part of the selection committee for appointing AFT members.
Terming it a case of a litigant (i.e. MoD) selecting its own adjudicators, Singh sought to highlight the fact that the Centre notified the rules despite orders of the Punjab & Haryana High Court to the contrary.
The petitioner alleged that the real reason behind tribunalisation was "not to reduce pendency, but to create post-retirement havens and to tacitly encroach upon the traditional jurisdiction of real courts, including issues of personal, individual and civil rights".
Defence related cases have increased from 9,000 to 16,000 after creation of the AFT, it submitted.
The petitioner also challenged the clause decreasing the tenure of members and lowering their status and a new provision allowing them to take up government employment after retirement from the tribunal, which was prohibited till now.
He pointed out that the new rules went against the views expressed by the prime minister and the law minister who made statements favouring independence of tribunals.
The emphasis on 'expertise' in tribunals was overemphasised since "judicial opinion is through assistance from both sides of the dispute through counsel or through expert opinions, and for the same, the expert need not sit as an adjudicator which can result in subjectivity and over-familiarity rather than a dispassionate and detached approach", it said.
Questioning excessive tribunalisation at the cost of regular judiciary, it demanded a roadmap for reforming tribunals and returning certain jurisdictions back to regular courts.
Top News
Says the CM is protected at both these places by the Punjab ...
Police say report on wrestlers' allegations to be submitted ...
The protesting wrestlers will not attend the congregation
Were arrested after a brief encounter in Kharar in the wee h...
Based on the FIR, it is revealed that his daughter had been ...