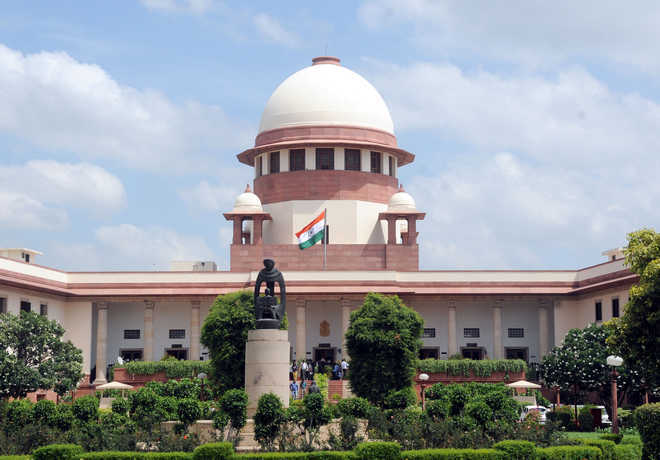 R Sedhuraman
Legal Correspondent
New Delhi, January 19
The Supreme Court on Thursday dismissed a PIL seeking legal sanction to divorces granted to Catholic Christians by Church-run canonical courts without subjecting them to go through the procedure under the Christian Marriage Act 1872.
A Bench comprising Chief Justice JS Khehar and DY Chandrachud said the petition was devoid of merit as Additional Solicitor General SK Kaul pleaded that the apex court had already ruled that only family courts and regular appellate courts had the jurisdiction to issue decrees in such matters.
(Follow The Tribune on Facebook; and Twitter @thetribunechd)
The petitioner, 87-year-old Clarence Pais, had pleaded that the Christian Marriage Act allowed solemnisation of marriages under the Canon Law, but did not recognise divorces granted by churches.
However, Muslim men were being allowed divorce by saying 'talaq' thrice. Pais had filed the PIL in 2013 on which the apex court had sought the Centre's views.
Pais argued that thousands of Catholics across the country were facing prosecution for committing bigamy despite the divorce obtained from the church. Even the Christian priests who granted such divorces could be prosecuted in such cases as under the present laws Christian marriages could be dissolved only by regular courts under the Christian Marriage Act.
Another petition pleading for "separate and distinct" laws for Sikhs in the matter of divorce, maintenance, succession and adoption is pending in the apex court.
According to the petition, the Anand Marriage (Amendment) Act 2012 has solved only the problem of registration of marriages by Sikhs, Jains and Buddhists. Earlier, they had to register their marriages under the Hindu Marriage Act 1955.
For other matters relating to succession, adoption, divorce and maintenance, people professing these three faiths still have to resort to the Hindu Succession Act, 1956, the Hindu Adoptions and Maintenance Act, 1956 and the Hindu Minority and Guardianship Act 1956.
The petitioners, Birendra Kaur and Rohit Garg, have questioned the wisdom of including Sikhs, Jains and Buddhists under the laws meant only for the Hindus, if one were to go by the titles.