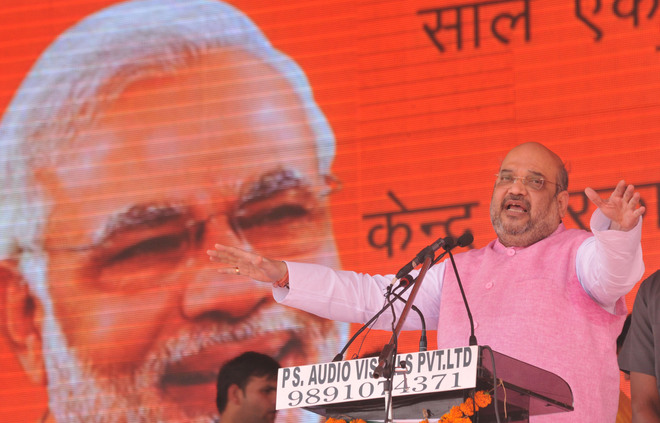 Parveen Arora and Vibha Sharma
Tribune News Service
Karnal/New Delhi, May 26
BJP national president Amit Shah today accused the Congress of not taking any step to tackle the black money issue despite being in power for 60 years.
At Jankalyan Parv rally in Karnal, organised to mark the first anniversary of the Modi government, Shah said: "No government took even a single step against black money. But, the Modi government has formed an SIT besides bringing a new law to prevent it from going abroad. We won't let a single penny go out of this country."
In his 15-minute speech, he said: "We had started our innings amid rampant corruption, frustration, dissatisfaction, terror and inflation, and promised to change the system. We have fulfilled the promise of corruption-free and transparent government."
He called the Modi government's first year in power a strong foundation on which a stupendous building would be constructed in coming years. "Our PM has raised the dignity of our country in the world. We need your support and I assure you that at the end of five years this government will ensure a respectable place for India on the world map," he said after launching a digital publicity clipping highlighting the achievements of the Modi government.
At a press conference in Delhi, Shah hinted at joining hands with former CM Jitan Ram Manjhi in the Bihar Assembly polls, due later this year. "Consultations are on and our doors are open for new allies," he said. Though he did not name anyone, party sources say alliance with Manjhi will help the saffron party tap the politically crucial Mahadalit community.
Shah said the BJP was giving the Bihar polls "great importance" and expressed confidence that the party would get a majority in the state on its own.
Last year, Manjhi had met the BJP top leadership, including the PM. Sources say the BJP's dilly-dally when Manjhi sought vote of confidence while he was in power may have dented his trust factor in the party and increased his bargaining potential.
Manjhi may not be willing to settle for anything less than the CM's post. However, the BJP also has to look after the interests of its senior Bihar leader Sushil Modi.
After the Delhi debacle, the Bihar elections are not just a litmus test for Shah but also for the PM's popularity. Bihar will be the first state to go to polls after the completion of the NDA's one year in power.