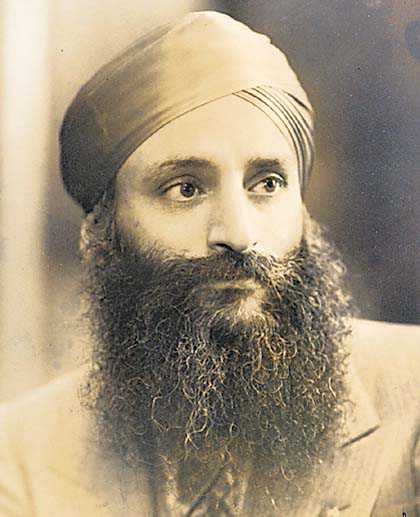 Vikramdeep Johal
Tribune News Service
Chandigarh, February 25
He was arguably the first turbaned Sikh to serve in the US Army – as a drill sergeant during World War I. When asked how he got inducted despite a beard, Bhagat Singh Thind (1892-1967) had quipped: "I suppose they figured I could kill just as many Germans with it as I could without it."
He was "honourably discharged" after the war ended in late 1918. But it was another battle that defined his life, one that he fought for over a decade. On February 19, 1923, he was denied American citizenship by the US Supreme Court. The ruling, which determined that Thind, "a high-caste Hindu of full Indian blood," was not a "white person", led to the revocation of his naturalisation as an American citizen and shut the immigration door on other South Asians too. His "Aryan origin" contention cut no ice with the judiciary, which accorded precedence to Caucasian lineage.
The 95th anniversary of the landmark verdict in the 'The United States vs Bhagat Singh Thind' case was commemorated earlier this week by the South Asian Bar Association, Washington DC (SABA-DC), which organised a panel discussion in the US capital. The speakers included Sim J Singh, National Advocacy Manager, Sikh Coalition; Lakshmi Sridaran, Director of National Policy and Advocacy, South Asian Americans Leading Together (SAALT); and Kritika Agarwal, Associate Editor, Publications, American Historical Association. The panellists underlined the case's impact on the South Asian Americans' struggle for their rights.
A native of Taragarh Talawa village in Amritsar district, Thind graduated from the holy city's Khalsa College. At the age of 20, he arrived in the US in 1913 for higher studies (a year later, his brother Jagat Singh set sail for Canada on the Komagata Maru, but had to return to India after being refused entry). He worked in the lumber mills of the Pacific Northwest and got a doctoral degree in philosophy from the University of California at Berkeley. "He was granted American citizenship in the state of Washington, only to have it quickly cancelled by the Immigration and Naturalisation Service. Thind then applied for citizenship in Oregon in 1919 and received it the following year. The immigration authorities appealed against it and the case went to the Supreme Court," says Philip Deslippe, a doctoral student in the Department of Religious Studies at the University of California, Santa Barbara.
"The apex court ruled unanimously against him. The decision is usually understood as a matter of racial prejudice," he adds. Thind's association with the pro-Independence Ghadar movement was apparently among the factors that influenced the judgment. After protracted litigation, he finally emerged victorious, becoming a US national once and for all in 1936. A decade later, the Luce-Celler Act reversed the 1923 order, opening a historic window for Indian immigrants.
Refusing to rest on his laurels, Thind made a name for himself as a teacher of spirituality and a wellness guru, holding lecture tours across America and propagating Sant Mat (path of saints). Fondly called Doctorji by his students, he perceived Sikhism as "the future religion of mankind".
In 1963, Thind returned to India for the first time after leaving its shores half a century ago. He and his wife Vivian met then Prime Minister Jawaharlal Nehru and then President Sarvepalli Radhakrishnan, even as he delivered lectures on metaphysics in several universities.
He passed away on September 15, 1967, in Los Angeles at the age of 74. His son, David Bhagat Thind, is the architect of bhagatsinghthind.com, a website dedicated to the never-say-die Sikh-American. The diaspora can't afford to forget his inspiring example, especially in these times where white supremacism is rearing its head again.
Top News
Reiterates his call for early cessation of hostilities and t...
Poll panel writes to all political parties, asks them to sub...
A mob had stormed the national stadium in Male on June 21, s...
Victim was rushed to GTB hospital in Delhi for treatment whe...
Avalanche struck when the team of 34 trainee mountaineers an...