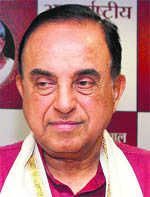 Aditi Tandon
Tribune News Service
New Delhi, January 5
Simmering tensions between the ruling BJP and Opposition Congress are set to escalate with Lok Sabha Speaker Sumitra Mahajan today referring the controversial complaint on Congress vice-president Rahul Gandhi's alleged dual citizenship to the Ethics Committee of the House which BJP veteran LK Advani heads. The complaint was forwarded to the Speaker by BJP MP Mahesh Giri.
BJP central committee member Subramanian Swamy had filed a related complaint to Lok Sabha Speaker in mid-November alleging violation of the Constitution and ethical code on citizenship by Amethi MP Rahul Gandhi and seeking his disqualification if the Ethics panel of Lok Sabha found him guilty of the charge.
Swamy had released certain documents to allege that Rahul had in 2003 shown himself as a British national before UK company law authorities for setting up a firm there. Swamy had argued that while UK permitted dual citizenship, the Indian Constitution prohibited the same.
"Rahul is liable to be stripped of his citizenship and Lok Sabha membership since he has committed an unconstitutional act," Swamy's complaint said.
The Speaker has now tasked the Ethics Committee of Lok Sabha headed by Advani to probe the matter.
Sources said the committee could call for written comments from Rahul and later may be call him in person if it deems fit. "The committee is bound to follow the principles of natural justice. Only if it finds a prima facie case will it proceed in the matter," said sources in the Lok Sabha .
Rahul had personally attacked Prime Minister Narendra Modi after Swamy's dual citizenship charges against him and dared the Prime Minister to probe him instead of using stooges to target him and his family. The Congress for its part has defended Rahul in the matter saying from the day Rahul was born he had held Indian citizenship and Indian passport.
On the British company in question, Randeep Surjewala of Congress says, "The company was incorporated in 2003. Rahul Gandhi became a Lok Sabha MP in 2004."
Swamy is also the petitioner in the National Herald which recently saw Rahul and his mother and Congress chief Sonia Gandhi appear before a trial court here. Top Congress leaders have described Swamy as Prime Minister's Modi proxy to target the Gandhis.
Top News