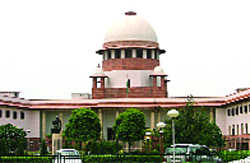 Satya Prakash
Tribune News Service
New Delhi, December 14
The Supreme Court on Thursday asked the government to ensure that 12 special courts proposed to be set up to try lawmakers facing criminal cases start functioning by March 1 next year.
Justice Ranjan Gogoi-headed Bench made it clear that it wanted to take up the main issue of lifetime ban on convicted politicians on March 7 by which time the special courts will get functional.
Seized of a PIL filed by advocate Ashwini Kumar Upadhyay seeking a lifetime ban on contesting of polls by convicted politicians, the top court gave two months to the Centre to collect information from different agencies about the cases pending against elected representatives across India.
The Bench said the amount of Rs 7.8 crore earmarked for the special courts should be allocated proportionately to the states where these courts were being set up.
"Immediately after such allocation is made and intimated to the respective state governments, the state governments in consultation with the High Courts will set up the fast track courts (12 in all) to ensure that the said courts start functioning from 01.03.2018. All necessary/required notification(s) shall be issued by the concerned/respective state government(s)," the Bench ordered.
Ticked off by the top court for its lackadaisical approach on the issue of weeding out criminals from politics, the Centre had two days ago filed an affidavit proposing to set up 12 special courts to expeditiously decide criminal cases pending against lawmakers in terms of its March 10, 2014, order.
To start with, these courts would be for a year. According to an estimate, one special court can dispose of 165 cases in a year. Trials in states with less than 65 cases can be completed in the existing fast track courts, the Centre's affidavit suggested.
The Bench had earlier pointed out that criminal cases against many politicians remained pending for more than 20 years, allowing them to complete four terms in Parliament or state assemblies. In such a situation, demanding a ban on them towards the fag end of their political career may not achieve the desired objective, it had indicated.
There were 1,581 lawmakers with criminal cases pending against them at the time of filing nominations in 2014 and the court had wanted to know their fate in terms of acquittal or conviction.
But the Centre said there was no government agency that kept track of the number of disposed of cases, much less the total number of pending cases. According to Association for Democratic Reforms (ADR), the number has come down to 1,571, on account of death and resignation of lawmakers.
A report by the NGO – which analyses affidavits filed by candidates at the time of filing of nominations – said 188 Lok Sabha MPs and 44 Rajya Sabha MPs have criminal cases pending against them. The number of legislators having criminal cases pending against them in various states is: Maharashtra (160), Uttar Pradesh (143), Bihar (141), West Bengal (107), Kerala (87), Andhra Pradesh (84), Tamil Nadu (75), Karnataka (73) Madhya Pradesh (70) and Telangana (67).
Top News
Odisha government has issued helpline 06782-262286. The rail...
At least 50 people died and 350 were injured in a three-way ...
12837 Howrah-Puri Superfast Express, 12863 Howrah-Bengaluru ...
WFI chief demanded sexual favours in lieu of supplements and...
Said agitation will be intensified by holding panchayats acr...