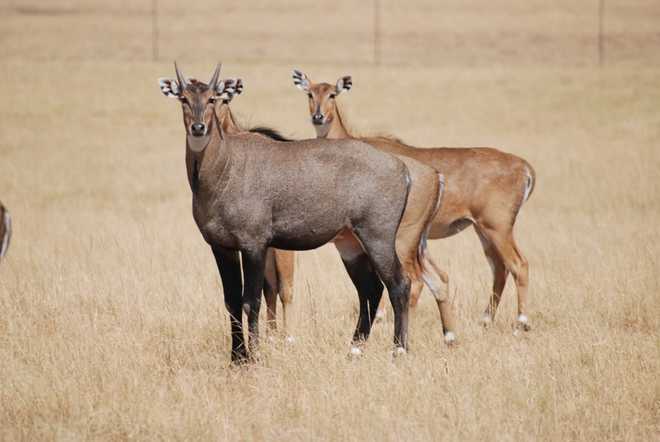 Wildlife Act's Section 62 illegal: PIL
In her PIL, animal rights activist Gauri Maulekhi has challenged the validity of Section 62 of the Wildlife Protection Act, 1972 that empowered the Centre to let culling of animals to curtail their population
Pleading to declare Section 62 as unconstitutional and illegal, the petitioner said under the legal provision, there was no mechanism to monitor the slaughter or assess the need on a scientific basis
"The indiscriminate killing of these animals will have a detrimental effect on the food chain and in turn lead to an ecological imbalance," the PIL said
Legal Correspondent
New Delhi, June 15
A PIL has been filed in the Supreme Court for stopping the culling of monkeys in Himachal Pradesh, wild boars in Uttarakhand and nilgais in Bihar that has created a controversy involving central ministers Maneka Gandhi and Prakash Javadekar, besides others.
A vacation Bench comprising Justices AK Goel and LN Rao today, however, refused to hear the plea on an urgent basis. The petition by animal rights activist Gauri Maulekhi would be listed for hearing in a week's time in normal course, the Bench told senior counsel Anand Grover who appeared for the petitioner.
The Ministry of Forests and Environment issued a notification on May 24 allowing hunting of monkeys in Himachal Pradesh on a request from the state government as part of the move to check the problem the rhesus macaque posed to the residents and tourists.
The central ministry has also accepted similar suggestions from Uttarakhand and Bihar for culling nilgais (blue bulls) and wild boars (pigs) in the two states, respectively.
Women and Child Development Minister Maneka Gandhi publicly criticised her cabinet colleague Javadekar for the approval given by his ministry for hunting the animals by declaring them as "vermin" for one year.
In her PIL, Maulekhi has challenged the validity of Section 62 of the Wildlife Protection Act, 1972 that empowered the Centre to remove animals from the protected list and let their culling to curtail their population.
Under the legal provision, there was no mechanism to monitor the slaughter or assess the need on a scientific basis after taking into account the destruction of their natural habitats of the animals, the petitioner pleaded.
"The indiscriminate killing of these animals will have a detrimental effect on the food chain and in turn lead to an ecological imbalance," the PIL said pleading for declaring Section 62 of the Act as unconstitutional and illegal.