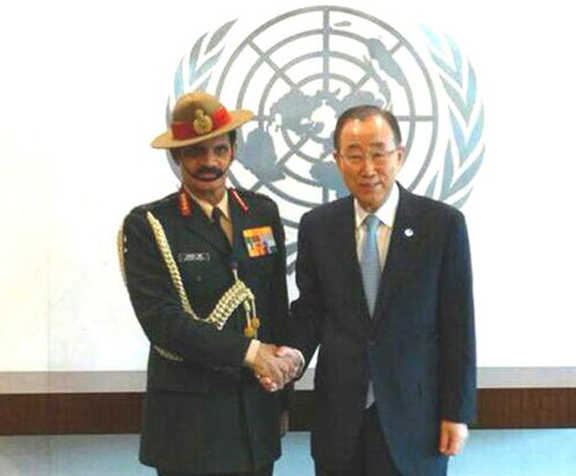 United Nations, April 5
The Indian Army has zero tolerance towards sexual exploitation and abuse in UN peacekeeping operations, Army chief General Dalbir Singh Suhag has emphasised while meeting UN chief Ban Ki-moon, who lauded the commitment and discipline of Indian peacekeepers.
Suhag is currently on a four-day visit to the US and met the UN Secretary General yesterday along with India's Permanent Representative to the UN Ambassador Syed Akbaruddin.
The Indian Army Chief "emphasised the Indian Army's total adherence to the Secretary General's zero tolerance policy on sexual exploitation and abuse", according to a brief statement issued by the Indian mission on the meeting between the Army Chief and Ban.
Suhag assured the Secretary General of the continued commitment of Indian peacekeepers to global peace, "with the highest standards of training, discipline and dedication", the statement said.
The UN Chief "admired" the commitment, discipline and quality of Indian peacekeepers serving in the UN missions and appreciated India's strong support to UN peacekeeping.
The meeting comes against the backdrop of new reports of alleged sexual exploitation and abuse in the Central African Republic by UN and French troops, as well as local armed groups.
The Office of the Spokesperson for the Secretary-General has said that the UN Multidimensional Integrated Stabilisation Mission in the Central African Republic (MINUSCA) announced on March 25 that it had received new allegations of sexual exploitation and abuse.
Most of the allegations relate to Burundian and Gabonese contingents present in the Kemo region between 2013 and 2015, as well as to the separate French Sangaris force stationed in the same region in the same period. Allegations of abuse in other parts of the country are also continuing to be investigated.
No Indian peacekeeper was found guilty of any wrongdoing in a new report that was launched last month that for the first time identified nationalities of UN peacekeeping personnel involved in sexual abuse against citizens. As many as 69 allegations of sexual exploitation were received by the UN against its peacekeepers last year, according to the report.
At 7,695 troops, India is currently the second largest contributor among all UN troop contributors. Traditionally, India has been among the largest contributor of troops to UN peacekeeping operations, with nearly 180,000 troops having served in over 44 of the 69 peacekeeping operations so far. — PTI
Top News
Turkey sits on top of major fault lines and is frequently sh...
It was the third session after the high-stakes municipal pol...
Earlier, TMC skips opposition meeting on the issue
Two vacancies still remain there in the top court
He will also lay the foundation stone of various development...