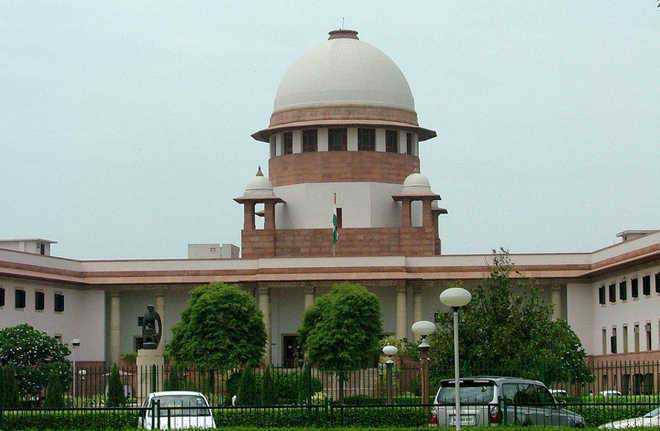 Satya Prakash
Tribune News Service
New Delhi, September 7
The Centre today told the Supreme Court that there was a possibility of a settlement between Punjab and Haryana over the vexed Sutlej-Yamuna Link (SYL) Canal issue — a bone of contention between the two states.
"There is an atmosphere of optimism.... There is possibility of a settlement. We need more time as the PM is out of the country," Attorney General KK Venugopal told a Bench headed by Chief Justice of India Dipak Misra during the brief hearing.
(Follow The Tribune on Facebook; and Twitter @thetribunechd)
The Bench gave six more weeks to the Centre to further mediate between Punjab and Haryana to arrive at an amicable solution and posted the matter for further hearing on November 8.
The mentioning of PM Narendra Modi's name in the SYL dispute by the Attorney General is being read as a sign of negotiations at the highest political level.
This is the second time that the Centre has sought time from the top court to work out a solution to the issue.
During the last hearing on July 11, Venugopal had requested the Bench to give two months to the Centre to arrive at a negotiated settlement acceptable to both sides.
Senior advocates Shyam Divan and Jagdeep Dhankhar were present in the court on behalf of Haryana, while Punjab was represented by senior advocates AK Ganguly, RS Suri and Advocate General Atul Nanda. Much of the work on the canal in Haryana had already been completed and it was only the Punjab part that remained pending.
The Bench had earlier directed both states to ensure that there was no agitation on the SYL Canal issue during pendency of the case after Nanda had said a political party in Haryana was agitating on the issue.
During the last hearing, Rajasthan had also demanded that its rights must be safeguarded in any settlement between Punjab and Haryana.
Haryana has maintained that it can't be made to wait for such a long time for the construction of the SYL Canal. Any further delay in the execution of the top court's decree passed in 2002 would lead to people losing faith in the judicial system. "How long we will have to wait?" Divan had asked on July 11.
On the other hand, Punjab says the decree was not executable and the state required time to argue its case. It has told the SC that the canal land returned to the landowners could not be recovered.
Punjab contended there were difficulties in implementation of the court's decree. The decree was premised on the fact that there was enough water in the river. But now there is not much water flow, making it impossible to give effect to it.
Punjab wanted a negotiated settlement between the two states with the help of the Centre.