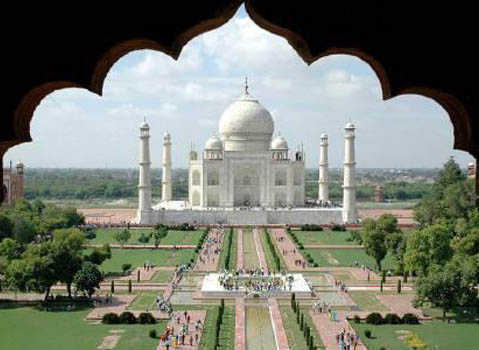 Satya Prakash
Tribune News Service
New Delhi, July 24
Pulled up by the Supreme Court for failure to take appropriate measures to preserve the historic Taj Mahal, the Uttar Pradesh Government on Tuesday said the entire precinct of the "monument of love" should be declared a no-plastic zone and all polluting industries in the region closed.
Known as one of the Seven Wonders of the World and a UNESCO World Heritage Site, the Taj Mahal was built between 1632 and 1653 at Gara by Mughal Emperor Shah Jahan as a tomb for his beloved wife Mumtaz Mahal. She had died in 1631 while giving birth to their 14th child.
In a draft report of a vision document on protection and preservation of Taj Mahal filed in the Supreme Court, the Uttar Pradesh Government suggested creation of more tourism hubs.
The document suggested that a comprehensive traffic management plan was needed to promote pedestrian movement in the Taj heritage precinct. Roads along the Yamuna riverfront should be planned so that traffic was limited and pedestrian movement was encouraged.

There should be no construction on the Yamuna floodplain and the riverbank should only have natural plantations, the Uttar Pradesh Government submitted.
State Additional Advocate General Advocate Aishwarya Bhati mentioned the matter before a Bench headed by Justice Madan B Lokur, which allowed her to file the draft vision document.
On July 11, the Bench—which also included Justice Deepak Gupta—had ordered day-to-day hearing of the matter from July 31.
The top court – which has been monitoring development in the area to protect the Taj Mahal -- has ordered a moratorium of the expansion of industrial units in TTZ -- an area of about 10,400 sq km spread over the districts of Agra, Firozabad, Mathura, Hathras and Etah in Uttar Pradesh and Bharatpur district of Rajasthan. It had also asked why only four ambient air monitoring stations were set up at Agra against the 22 required.
The draft vision document comes almost two weeks after an anguished Supreme Court had said, "Either restore it (Taj Mahal) or demolish it."
"You can shut down Taj. You can demolish it if you like. You can also do away with it if you have already decided," the Bench had said on July 11 after getting a "vague" answer from the Ministry of Environment and Forest.
The judges had lost temper after Additional Solicitor General AS Nadkarni said the Centre had set-up a committee to hire external experts as advised by the court to find out exact source of pollution in and around Taj which would take three-four months.
"Uttar Pradesh is not bothered. There is no action plan or vision document. We want you to give us an action plan so do what you propose to do. We will hear it and finally dispose it (of). If it has to be shut down let it be shut down," the bench had told the ASG.
"Eiffel Tower gets 80 million visitors every year. This is eight times more than what Taj Mahal attracts and it is more beautiful than Eiffel tower that looks like a TV tower. Due to sheer apathy of officials, this country is losing crucial foreign exchange," it had said.
"Do you realise the loss due to this sheer lethargy? Foreign exchange, infrastructure, everything is lost due to this. There is a loss to tourism. One monument can do it, but there is apathy," the Bench had told the ASG and directed the Centre to file an affidavit detailing the steps taken and proposed for protection of Taj Mahal.
It had on May 9 pulled up Archaeological Survey of India for its failure to take measures to protect the monument.
Vision document
UP Govt's vision document in the SC suggests a comprehensive traffic management plan to promote pedestrian movement in the Taj heritage precinct
Roads along the Yamuna riverfront be planned so that traffic is limited and pedestrian movement encouraged, it says
There should be no construction in the Yamuna floodplain and the riverbank should only have natural plantations, it says