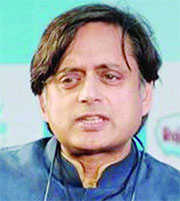 New Delhi, November 14
Congress leader Shashi Tharoor's comment about PM Narendra Modi's humble antecedents on Wednesday triggered a storm on the social media and political circles with the BJP demanding an apology from him.
On the occasion of Jawaharlal Nehru's birth anniversary, while Congress chief Rahul Gandhi sought to underline his greatness and the fact that he laid the foundation of a modern India, the narrative was hijacked by Tharoor's comment about the PM made at the re-launch of one of his old books on Nehru in the capital yesterday.
"If today we have a "chaiwalla" as the PM it is because Nehruji made it possible to create an institutional structure through which any Indian can aspire to rise to the highest office of the land," Tharoor said at the re-launch presided over by former Congress chief Sonia Gandhi.
BJP leaders sought an apology from Tharoor accusing him of insulting Modi and saying that Modi became PM because people wanted and not because of anything else. — TNS
Top News
The minister inaugurates Chief Judicial Magistrate court, Ma...
'I am Rahul Gandhi, not Rahul Savarkar,' he said when asked ...
Former Union Minister Ravi Shankar Prasad says stay on convi...
The plea is filed by a Kerala-based social activist
Ghanghas is the 6th Indian boxer to be crowned world champio...