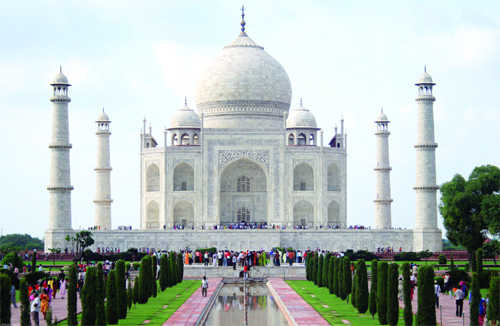 Vibha Sharma
Tribune News Service
New Delhi, May 13
For the first time perhaps, a time-bound plan has been set to address the challenge of maintaining the pristine beauty of the world famous historic monument — the Taj Mahal — a symbol of India's national pride and heritage.
Taking serious note of the damage caused to the Taj over time, a Parliamentary Standing Committee headed by senior Congress leader Ashwani Kumar has asked the Director General of the Archaeological Survey of India and the local authorities to take urgent remedial measures under the time-bound action plan for completion of works at the site.
A multi-pronged strategy is needed to address the challenge of preserving the pristine beauty of the Taj, Kumar said.
"The fact that pollution has increased taking a toll on the Taj Mahal. The sorry state of affairs clearly indicates that concerned authorities have failed to discharge of their given duties. Discolouration is taking place due to particulate carbon and dust deposition generated from combustion of fossil fuel and biomass," he said.
Interestingly, though the panel maintained that pollution was causing distress to the historic Agra monument, the government told the Parliament that the Taj was not turning yellow due to pollution and the necessary steps are being taken to preserve it.
Required actions are being taken to reduce pollution in the vicinity of the 18th century monument and it is in a good state of preservation, Culture Minister Mahesh Sharma told the Rajya Sabha.
"Local authorities are taking the necessary steps to reduce pollution around the Taj Mahal."
"The Archaeological Survey of India (ASI) is regularly monitoring ambient air quality around Taj Mahal and attending to essential conservation, preservation and environmental development works to reduce the effect of pollution on marble surface," Sharma said adding that the iconic mausoleum was in a good state of preservation due to the consistent efforts of the said agency.
"Conservation work at Taj Mahal is attended to regularly by the ASI. Wherever necessary, advice from reputed government agencies in the country is taken for better care of the monument," he said.
Meanwhile, as per the Parlimentary Panel, consultations with experts from IIT Chennai are underway to find a lasting solution and determine the appropriate technology.
Expressing dissatisfaction over the working of the Environment Ministry, it has also taken stringent view of recommendations of a panel headed by former cabinet secretary TSR Subramanian, appointed by the NDA to review six green laws.
Top News
Polling began at 8 am and will continue till 5:30 pm
Over 1.45 crore electors are eligible to exercise their fran...
Discuss Russia-Ukraine war, highlight emerging security chal...
Rahul Gandhi skips meeting as Bharat Jodo Yatra led by him i...
The seized drugs are the spurious versions of leading brands...