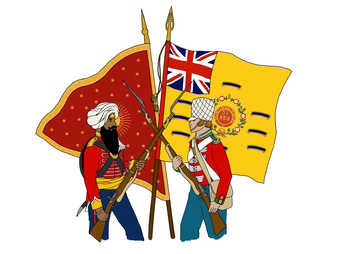 Vikramdeep Johal
Tribune News Service
Chandigarh, October 24
Even as Britain salutes the Sikh contribution to its campaigns in World Wars I and II, a project has set out to achieve total recall of the two Anglo-Sikh Wars, fiercely fought in the 1840s after Maharaja Ranjit Singh's death.
The project, titled "Battles, Treaties and Relics", was launched by the Sikh Museum Initiative (SMI) at the Newarke Houses Museum in Leicester recently. The museum is hosting an exhibition of the relics and artefacts of these wars between March and June 2017.
Gurinder Singh Mann, a Sikh scholar and the SMI director, says, "A series of battles determined the fate of the Sikh empire, which went head-to-head with the East India Company. It were the Anglo-Sikh wars that brought mutual respect between the two empires."
Several lectures, walking tours and other events are being organised as part of the project, funded by the Heritage Lottery Fund. The tours are being conducted in association with historian Rav Singh's "A little history of the Sikhs" group, says Mann, whose parents migrated from Hoshiarpur to the UK in the 1960s.
The Leicester-based SMI plans to use 3D modelling, augmented reality and other new technologies to preserve war-related heritage. The researchers will also focus on the "spoils of war", primarily Maharaja Ranjit Singh's golden octagonal throne and the legendary diamond, Kohinoor.
Top Stories