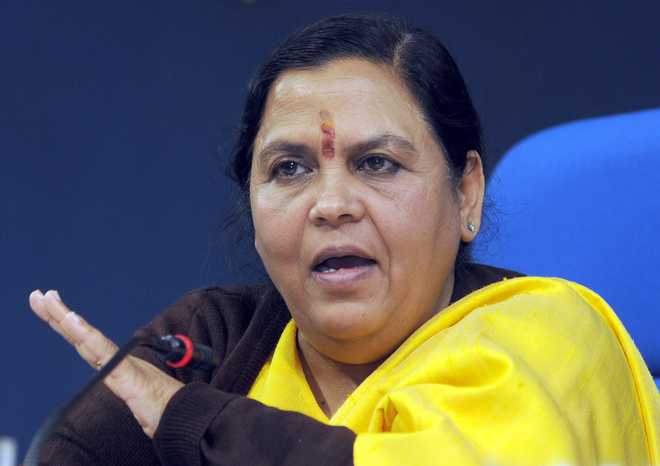 Ravi S Singh
Tribune News Service
New Delhi, February 18
Union Drinking Water and Sanitation Minister Uma Bharti will launch a new national drinking water programme named 'Swajal' from Uttarakashi district in Uttarakhand on February 20.
Introducing the programme, she said it will be implemented in six states, including Uttarakhand, as pilot. Uttarakhand has been chosen for launching the first pilot.
Swajal is a community owned programme for sustained potable water supply.
Bharti said: "Swajal's implementation and the following next level of activities under Swachh Bharat Mission (Gramin) will open avenues for generation of employment in rural-India."
Next level of activities under the Swachh Bhart Mission, include solid and liquid waste management under which a convergence-based programme will be kicked off next week.
A proposed 'Ganga Gram' programme will also be launched in Uttarkashi on February 20. It will be a model for solid and liquid waste management for all Ganga-bank villages as well as country's other ODF villages.
Spelling out the roadmap of implementation of cleanliness drive in rural India, she said it will be taken to next level which include taking up many more places of historic-cultural importance for elevation to improved standards of cleanliness under the "Swachh Iconic Places initiative". The initiative was envisaged by Prime Minister Narendra Modi.
She dwelt on "Galvanising Organic Bio-Agro Resources (GOBAR)-Dhan"- a "Waste to Wealth" initiative of the government announced by Union Finance Minister Arun Jaitley in Budget (2018-19) address.
As many as 700 districts of the country will be provided access to bio-gas resources to recycle animal waste and convert it into wealth and energy under the initiative.
Top News
No immediate report of any loss of life or property; People ...
Earlier, Amritpal was caught in CCTV footage at a toll plaza...
Police have arrested 154 people so far but Amritpal is still...
Stringent National Security Act has been invoked against Amr...
In his first reaction to the police action, the CM releases ...