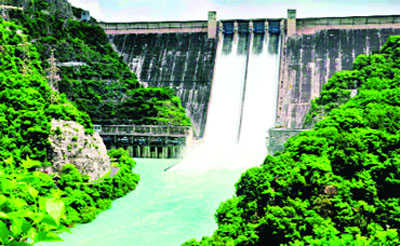 Vijay Mohan
Tribune News Service
Chandigarh, May 8
While the spate of western disturbances over North India may have brought some respite from the summer heat, it has also had an adverse affect on the filling up of crucial reservoirs in the region, the levels of which have slipped around 40 per cent below normal.
Lower temperatures over the upper Himalayas have reduced melting of snow, which is the primary source of filing up the reservoir at Bhakra on the Sutlej. Further, snowfall in the catchment areas in the preceding winters has been about 60 per cent of the normal, while rainfall in the areas concerned too has been less last year.
According to Bhakra Beas Management Board (BBMB) sources, the inflow into Bhakra at present is about 25 per cent less than what it should be. Moreover, the outflow to meet the demands of the beneficiary states is much higher. "The average outflow is about 23,000 cusecs with the inflow is 8,000-13,000 cusecs," an officer said.
Terming the situation to be "quite worrisome", the BBMB has called for an emergency technical committee meeting (TCM) on Wednesday, to take stock of the situation. The TCM comprises BBMB officers and representatives of the beneficiary states. "If the temperature does not rise soon, the situation could turn critical and we are asking states to rework their demands in accordance with the availability," he added.
According to Central Water Commission (CWC) data, the storage at Bhakra, which also has significant hydropower capacity, is down to just 15 per cent of its total capacity of 6.23 billion cubic meters. This is 42 per cent below normal for this time of the year.
The filling period of dams is May to September, when snow melting is at its highest and monsoons also chip in, especially for rain-fed dams like the Pong on the Beas. This period has already been reduced due to the prevailing weather.
The level at Bhakra is dipping by about two feet daily and was recorded at 1,525.1 feet on Tuesday, 10 ft lower than it was on this day last year. At Pong, which is about eight feet lower than last year, the inflow is about 5,000 cusecs while the outflow is about 13,000 cusecs, sources said. The storage at Pong is about 12 per cent. Similarly, storage at Thein on the Ravi in Punjab is 25 per cent of its capacity, which, according to the CWC, is 38 per cent below normal.