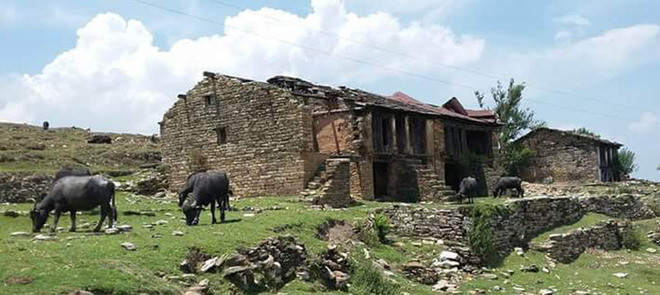 BD Kasniyal
Our Correspondent
Pithoragarh, October 18
A silent migration from rural Uttarakhand is on. The 2013 flash floods that destroyed villages, towns in the interior areas of the state have only intensified the exodus, and sociologists and activists warn of a worse time if rural infrastructure remains neglected.
Experts say lack of attention to rural inhabitants' main sources of livelihood — agriculture, horticulture, animal husbandry and forest produce — has forced them to desert their villages for cities.
"The rate of migration has increased after June 2013 as most of the people who lost their homes but received compensation preferred to relocate in safer plains," said social activist Dr Shamsher Singh Bisht.
The 2011 census quotes 1,065 villages of the state as deserted. "The demographic changes in the hills have changed their geo-political situation giving weight to Terai region in forms of more seats in the state assembly, which indicates a contradiction as the state was created for the overall development of hills," said Kashi Singh Airy, a senior leader of the Uttarakhand Kranti Dal.
Airy said barring some remote villages in Uttarkashi and Chamoli, all hilly areas were under increased migration. "Except places where people are keeping their traditional economy and livelihood intact, all villages seem to be diminishing," he said.
Dr Anil joshi, who undertook 20-day "Gaon Bachao" yatra, said lack of basic facilities such as water, roads health and communication were to be blamed for increased migration. "Over 3,000 villages in the hills have faced massive exodus due to policies of the respective state governments which kept neglecting villages when it came to development policies," he said.
"Whatever might be the level of migration from villages, the major reason is the non-availability of livelihood and infrastructural facilities of road, health and education in the villages," Airy said.
"The new political culture of mafias and power brokers has put an end to the core values of statehood activists," said Dr Shamsher Singh Bisht, coordinator of the Uttarakhand Lok Vahini and leading social activist.
"The district of Almora and Pauri have been worst hit by the migration as educated persons are migrating from these districts in search of better jobs and education for their children," he said.
Dr Bisht said the return of some highly qualified youth from foreign countries to their villages in search of peace and serenity are the only hope of creating a congenial atmosphere in hills and in turn checking migration.