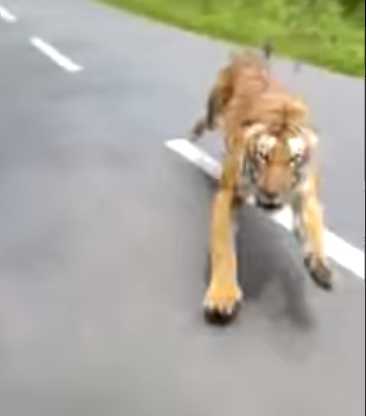 Tribune Web Desk
Chandigarh, June 30
A video clipping of a tiger chasing a bike at a sanctuary went viral on Sunday, with users commenting on how frightening it is in the wild.
Shot in the Muthanga Wildlife Sanctuary in Kerala's Wayanad, the video shows a tiger spotting the two riders on the bike and giving them brief chase, before falling back. The video was uploaded by Forests and Wildlife Protection Society (FAWPS)—a non-government organisation that works for forest conservation—on its Facebook page, with a caption that said: "A Tiger is seen chasing a bike in Muthanga Wildlife Safari in Wayanad in Kerala. Is this how the Tiger Parks are managed in India?"
There's very little information about the video. However, there's some talk that the riders were forest department officials, although this isn't confirmed yet.
The video has drawn several reactions on social media—some of them funny and some voicing concern over human encroachment in forest areas that lead to man-animal conflicts.
One user said: "Exhibit A. If you're going to choose two wheels for transportation, get motorcycle and not scooter".
"We have invaded their homes. When they invade our home, don't we choose to even kill them (sic)? That's what they were doing," another one said.
A third one wrote: "Oh ho just stop and pet the kitty. It just wants to show some love".