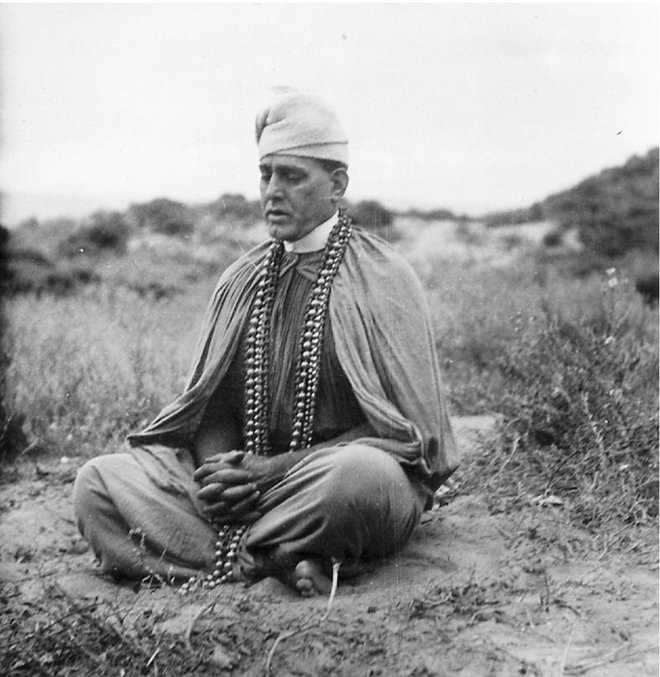 Vikramdeep Johal
Tribune News Service
Chandigarh, February 13
Bal (Ballan) village in Jalandhar district is best known for Dera Sachkhand Ballan, a Ravidassia sect that has politicians and other influential people among its patrons. However, few know the amazing story of Wassan Singh — born in this part of Doaba back in 1882 — who carved a niche for himself as a yoga guru in the US post World War I.
His great-granddaughter, Lydia Wassan, is penning a book on the enigmatic figure who mesmerised countless Americans during the Depression years. "Yogi Wassan's story has fascinated me and my family for a long time, partly because we don't have entirely satisfactory answers to many questions about him. Unfortunately, we don't know anything about his parentage or family life at Bal village," says Lydia, who is pursuing a Master's degree in creative non-fiction at the University of New Mexico, Albuquerque.
(Follow The Tribune on Facebook; and Twitter @thetribunechd)
Wassan Singh arrived in San Francisco from Hong Kong in 1906. The sturdy Sikh had probably worked in the colonial armed services or the Hong Kong police department. For over a decade, he earned a livelihood in the lumber mills of Oregon and Washington. He shot into the limelight in 1922 when he jumped into a lake, fully clothed, to save a boy from drowning. Wassan then resuscitated the kid and drove him home. It's said that the parents offered him a reward, but he refused. In another swimming accident reported a few months later, he again emerged as the miraculous saviour.
During the 1920s, he began a career as a yogi and dropped Singh from his name. In those days, yoga was an exotic novelty in America, having adherents and detractors aplenty. "Yogi Wassan was extremely fit and was able to do incredible strongman acts during his performances," says Lydia.
Wassan's high-profile yoga was mostly about physical exercise, diet, hygiene, and folk remedies — a striking prototype of Ramdev's scheme of things.
In his 2016 essay, 'Rishis and Rebels: The Punjabi Sikh Presence in Early American Yoga', Philip Deslippe gives an account of a Wassan lecture. "He wore a gold-coloured turban with matching robe, and his speech was accented with charm and humour. Yogi Wassan began the class by chanting a long 'Om' that set the tone (and also established his breath control and diaphragmatic strength with the audience) and then launched into a brief concert on the flute before he began to lecture on the powers of breath control and the solar plexus."
Deslippe, a doctoral student at University of California, Santa Barbara, further says: "His lecture concluded with a feat of strength in which men from the audience were invited up and formed a line that pressed forward like a single-file football team against Yogi Wassan's midsection."
He married thrice — all white women — despite the prevailing prejudice against South Asian immigrants. The third wife, Elsie Goldkette Lerche, was a Norwegian from whom he had a son.
In a befitting tribute to Scandinavian and Hindu divinity, he named him Thor Shiva.
Though "Super Akasha" Wassan projected himself as a Hindu swami, he kept wearing the 'kara', a Sikh article of faith. It had etchings which showed that he had made a pilgrimage to Hazur Sahib at Nanded (Maharashtra). The heirloom was passed down to Thor Shiva, who wore it his whole life. Now, it adorns the wrist of grandson Christian (Lydia's father).
Besides giving lectures and demonstrations across the US, the yogi also wrote books with long and lofty titles such as 'Secrets of the Himalayan Mountain Masters and Ladder to Cosmic Consciousness', 'Book of Nirvana: Super Cosmic Wisdom, Rajah Yoga System of Yoga Philosophy' and 'Rajah Yoga Book on All-seeing Eye, Spiritual Magic and Cosmic Ray'.
Never returning to India, he passed away at St Louis in 1942 at the age of 60. His death, too, is shrouded in mystery. One account says that he refused help after getting injured in a road accident. As per others, he died of a chronic infection or a heatstroke.
Lydia is keen to visit Punjab and Hong Kong in a bid to clear the haze enveloping Wassan's pre-US years. "The book is like an extended personal essay that blends current experience, family history and my research into the history of early yoga," she says.