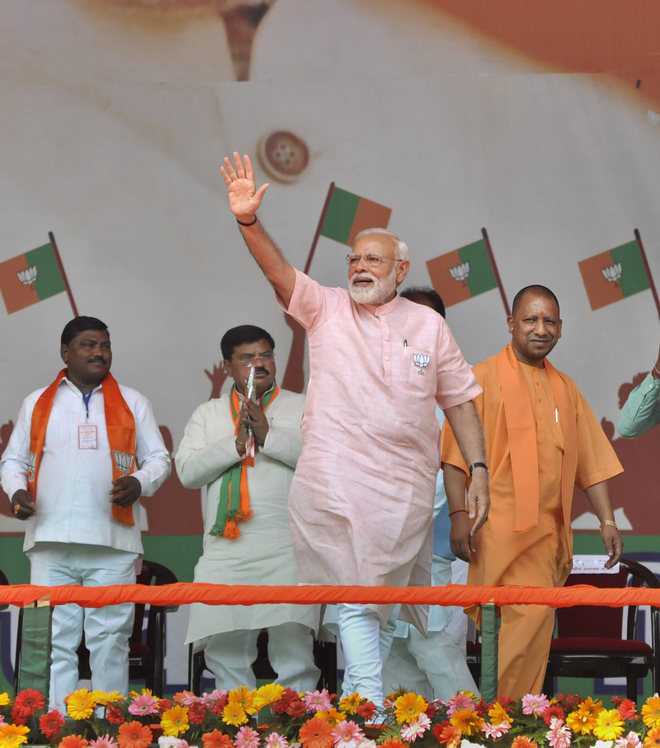 Tribune News Service
Lucknow, April 5
Prime Minister Narendra Modi today attacked Opposition parties for being soft on terror, thus compromising on nation security. He alleged when India killed terrorists inside Pakistan some people in India were upset. They want to be heroes in Pakistan, he said.
Addressing election rallies at Amroha and Saharanpur in western Uttar Pradesh, the PM said there was a wave for a "mazboot" (strong) government.
Targeting the earlier Congress, SP and BSP governments, Modi said during their time, terror blasts were a common feature — be it Lucknow, Bholenath's city of Varanasi, Ram Lalla's birthplace of Ayodhya or CRPF camp in Rampur — that claimed lives of the innocent.
The culprits of those attacks were tracked down by investigative agencies, but they were often released by the "bua-babua" (read Mayawati and Akhilesh Yadav) governments due to vote bank politics.
Comparing their rule with his five-year tenure, Modi said the chowkidar the people have placed in Delhi promises to trace such culprits from the depths of the earth and severely punish them.
At Saharanpur, without naming the Congress candidate Imran Masood, Modi said while some speak of "boti-boti" (chopping into pieces), he was concerned about the security and dignity of beti-beti (daughters).
It may be recalled that during the 2014 election Masood had reportedly threatened to "chop Narendra Modi into pieces".
Describing the mahagatbandhan as "mahamilawat", the PM singled out RLD president and Muzaffarnagar candidate Ajit Singh, accusing him for standing with those who instigated Muzaffarnagar riots.