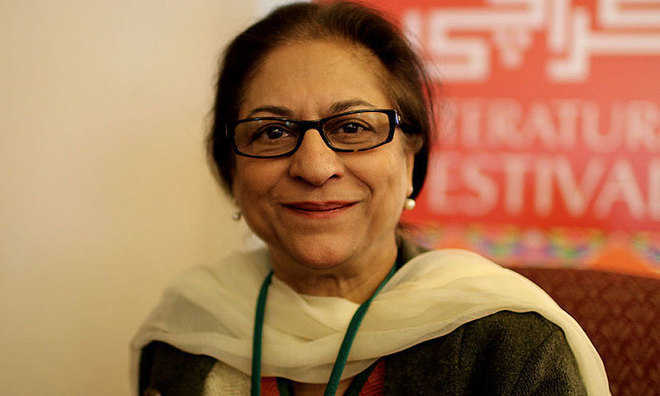 Sarika Sharma
Tribune News Service
Chandigarh, February 14
Hundreds of women joined Asma Jahangir on her last journey on Tuesday, defying the tradition that bars Pakistani women from attending funerals. This was called the 'last subversive act' by the activist, who fought for peace between the two nations till the very end.
She died of cardiac arrest in Lahore on Sunday. She was 66. The funeral was held at Gaddafi Stadium. Earlier, the procession was led by her daughters, Sulema and Munizae.
In an email to The Tribune, journalist Ammara Ahmad, who attended the funeral, said there were around 1,000 women at the funeral. "...something I have never seen in Lahore, especially when someone well-known dies. There is no doubt that the Jahangir family planned and allowed this to happen. There was an arrangement for women on the right side, and it wasn't behind the men, as is often the case in mosques and during Eid prayers. It was side by side." She shared that many of these women were activists, lawyers, young students and even some acid burns victims.
(Follow The Tribune on Facebook; and Twitter @thetribunechd)
Another journalist, Gharidah Farooqi, said this was the kind of freedom she had envisaged for the women of her country. "My eyes are seeing these heart-breaking but historic scenes; funeral of #AsmaJahangir and huge number of women at janazah-gah. This is the kind of religious and women freedom she fought for!" she tweeted.
While some called the presence of women beautiful and radical, one Twitter user called it more fitting than a 21-gun salute.
According to Daily Times, many of Asma's female comrades, colleagues and relatives joined the prayer. It quoted a young woman lawyer, who worked with Jahangir. She said the lawyer and activist ruled the hearts of women lawyers across the country because she always supported and protected them.
Recounting her experience at the unusual funeral, Zahra Hayat, a lawyer and doctoral student in Anthropology, at Berkeley, California posted on Facebook:
"As I walked into the stadium for Asma Jahangir's funeral, I initially couldn't spot any women. I hesitated, and tried to remember the logistics of death: do women even attend public funeral prayers? What if they ask me to leave? Then quickly, sanity returned. Would Asma Jahangir be having these thoughts? Never, she'd charge right in.
"So I channelled her, then, as I know I will many many times after today, stood up a little taller, and walked in. And of course, there were so many women. Many were lawyers. A sense of solidarity. We asked each other where the women's enclosure was, expecting any minute to be directed away from where her body was kept, to a separate female enclosure.
"There was none. Of course. As we crowded around the front, women and men, announcements began about starting the namaz, and again, we expected to finally be told to step back and form lines behind the men. But instead, the men were asked to move to the back, and the women called to the front. We prayed like that, standing next to some men, in front of others.
"No one objected, how dare they? It was beautiful, so fitting. I should've known--how could the woman who charged alone, quite literally, into all male bar rooms, courtrooms, into all sorts of hyper-male spaces, countenance that the women who came to say farewell to her, their hero, be shunted to the back? Such beautiful subversion, in death as in life. Farewell, Asma. Rest in power."