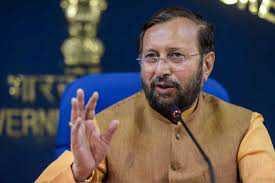 Tribune News Service
New Delhi, June 27
The government today claimed it has been taking all possible steps to deal with impact of climate change and asserted it will not buckle under any international pressure, while ensuring that India's own interest is addressed first.
Responding to a calling attention motion on "situation arising out of climate change in the country and steps taken by the government in regard thereto" moved in the Rajya Sabha by SP member Rewati Raman Singh, Environment Minister Prakash Javadekar held that developed world was responsible for much of the effects of climate change.
He said India would "not bow down" to any international pressure on the issue and safeguard its own interest first. The minister blamed developed countries for not keeping up to their commitment of providing $100 billion and technology transfer collectively to developing countries like India for dealing with climate change.
Noting that developed world was responsible for most of the climate change situation today, Javadekar said: "Over 70 per cent of the green house gas emission was due to developed countries, while India's contribution is just three per cent. There was over consumption by the people in the developed counties."
The minister said: "There are over 800 cars for every 1,000 people in developed countries while in India this ratio is just 25 cars per 1,000 people. India's per capita power consumption is over 1,000 units while it ranges from 10,000 units to 12,000 units in developed countries."
The minister said India did not sit on the back benches during Paris Climate Summit in 2015 and rather led from the front and inked the important agreement.
Earlier initiating the discussion, Javadekar said so far, 33 states and Union Territories had prepared their climate action plan.