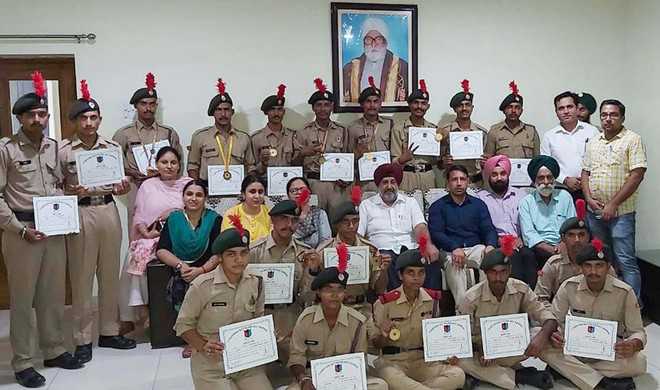 editorial@tribune.com
Karnal: NCC cadets of Guru Nanak Khalsa College secured first position in an NCC camp organised at Kanipala in Kurukshetra. The cadets were honoured by the college management. Sardar Kanwarjeet Singh Prince, college managing committee president, congratulated them. Lt Devi Bhushan, NCC officer of the college, said Sahil won gold medals in shooting and scout drill. Imran was selected as camp senior, while Sahil was announced best camper.
Finnish company, HAU sign pact
Hisar: Chaudhary Charan Singh Haryana Agricultural University (HAU), Hisar, which is dedicated to the uplift of farmers, has taken one more initiative by signing a memorandum of understanding (MoU) with Fortum India, a leading clean energy company that provides its customers electricity and smart solutions to improve resource efficiency. The MoU was signed in the presence of Prof KP Singh, Vice Chancellor, HAU, Hisar. On behalf of Fortum India Pvt. Ltd. Sanjay Aggarwal, managing director, and on behalf of the the HAU Dr SK Sehrawat, director of research, signed the pact. Prof Singh said, "By signing the MoU, we will be able to implement innovative technologies for the conversion of crop residue in eco-friendly, technically efficient and economically viable way."
Varsity teachers to get laptops
Rewari: The Indira Gandhi University (IGU) authorities will provide laptops and printers to its teaching faculty to facilitate them in carrying out research. Prof SK Gakhar, Vice Chancellor, announced it while addressing teachers at the university. "The move aims at giving a boost to research-based activities in the university. A research fund will be created to bear the expenses. We will also fill the vacant posts in the teaching and non-teaching departments, besides removing discrepancies pertaining to employees' salary, increments, arrears and promotions," said Gakhar.
Seminar on Guru Nanak Dev held
Hisar: Guru Jambheshwar University of Science and Technology, Hisar, organised a seminar on the theme 'Guru Nanak Dev ji: enlightening mankind' under a special series of programmes to commemorate the 550th birth anniversary of Guru Nanak Dev on Tuesday. Prof Harmohinder Singh Bedi, Chancellor of Himachal Pradesh Central University, was the keynote speaker. Prof Tankeshwar Kumar, Vice Chancellor of the university, presided over the inaugural function. Prof Bedi said, "When we remember Guru Nanak Dev ji, we remember the last 500 years of not only India, but of the entire Asia. Guru ji visited all important places in the continent. Guru Nanak Dev ji was the real architect of India's cultural and spiritual heritage."
Cities