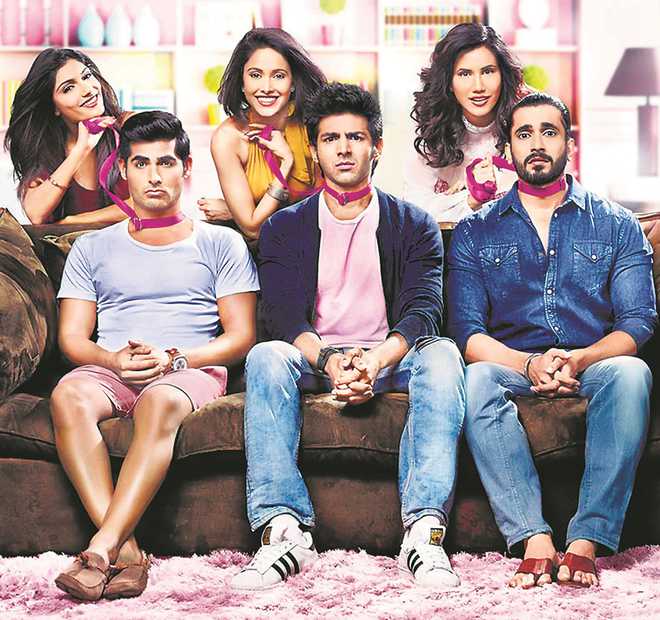 singhking99@yahoo.com
Nonika Singh
Is the entertainment industry to be blamed for all that ails our society and not people living in it? Then why does the moral and ethical core of society hinges upon celebrities alone?
Rabbi Shergill feels Jattisation of the Punjabi music is dangerous. Luv Ranjan's superhit films are dismissed as outright misogynist. Akshay Kumar is trolled for not casting his vote. Twitterati scoffs at Sonam Kapoor for expressing her opinion on an incident involving the brutal murder of a toddler at Aligarh erroneously linking it with her views on Kathua rape. Ajay Devgn is called out by a fan suffering from cancer indirectly blaming him for endorsing a paan masala brand..
As much as we adulate our celebrities, our response is equally acerbic to what we perceive are their misdemeanours. Applause follows brickbats, cheers equalise jeers. If one didn't know better, one would assume the entertainment industry is responsible for all that ails our society, and not people living in it. It is as if the moral and ethical code of society hinges upon celebrities alone. If the rich and famous of the glamour world are at the receiving end, films are criticised for either being too virtuous or too amoral, or even for being not real enough.
Of all industries, the Punjabi music world gets maximum flak. It is blamed for promoting violence and vulgarity, and now it is being indicted for overuse of the word 'Jatt' as well. Shamsher Singh Sandhu, the lyricist who has given us many hit songs, can't understand what the fuss is all about. An encyclopedia on Punjabi music, he talks about various genres and artistes of Punjabi music, including traditional folk ones, and asks, "The biggest names in the Punjabi music world have sung songs laced with double meaning. The stalwarts, the best, whom we hold in great esteem, have not only lent their voice to lachar songs, but even referred to relations which fall way off the sanctioned norms. As for the use of the word Jatt, way back Surinder Kaur and Harcharan Grewal sang Main Vi Jatt Ludhiane Da'. So what is the big deal?"
Not that he is suggesting that all is well with Punjabi music today; he is only driving home the point that the criticism, earlier confined to a few, has snowballed into a huge number.
Surjit Patar, poet and chairperson of the Punjab Arts Council, rues that nothing substantial or soulful is emanating from Punjabi music. "There is no denying that what we read or hear impacts us. Today, there is little originality or creativity, only mediocrity, that too is recycled endlessly. So instead of writing meaningful 'Oithe amla de hone ne nabade kisse ne teri jaat puchni', there is undue emphasis on meaningless words. As for overuse of the word Jatt, it may mean different things to different people. It could further cleave us on the lines of caste or could be just another representative word and possibly send out mixed signals," he adds. However, he does agree that life is not created by entertainment industry and to indict it for all that is wrong with us is would be too judgemental. "Perhaps, the shallowness of art reflects life which we, especially youth, are leading today," he reflects.
How much of this industry needs to be art and how much should be commerce too is an equation that can't be decoded fully. Rahul Mittra, Bollywood film producer, thunders; "Hum samaj ke thekedar nahin hai." He is set to produce his next film full of beautiful babes with biknis. But "please don't judge me for it," is his humble request. Cinema, he reminds us, is a flight of imagination. It is fiction, and at best, makers try to excel in different genres often in line with what they see happening around them.
Some rise by sin, and some by virtue fall — this Shakespeare adage is true for this starry world, yet we expect them to be role models, to lead us and society by example. By creed and by deed we hold them to exacting standards, almost impossible to follow in real life.
Why talk of critics alone whose job it is to critique, even stars themselves see more than what is intended. Post airing of the Game of Thrones episode, The Last of the Starks, Jessica Chastain questioned and remarked in context of a scene, "Rape is not a tool to make a character stronger. A woman doesn't need to be victimised in order to become a butterfly." Predictably, her comment sparked a debate, with viewers divided on the lines of both sides.
Seriously, does entertainment world affect our lives this deeply? According to a study by Michelle C Pautz, an associate professor of political science at the University of Dayton, the answer is an emphatic 'yes'. Movies contribute to the "political socialisation of people, young adults in particular," is her firm belief.
No doubt, entertainment world has the power to sway us like no other. But in the 21st century, are we attributing meanings more than the medium calls attention for? After all it is just a song or a movie... or is it? In Hollywood, insist experts, nothing ever is accidental or incidental. Even a shirt that a character wears betrays intent or design. But in Bollywood, where attention to detail is more a casualty than a premeditated thought, should we be dissecting each scene, each dialogue threadbare? Should our hypersensitive blinkers be up all the time? A fun film, high on bromance like Pyaar Ka Punchnama, is seen through the lens of feminism, Uri: The Surgical Strike through politically coloured glasses. Nationalism, romance everything is dismissed as a formula. In seeing too many points are we missing the point, the maker wants to make or perhaps does not want to? Are we reading too much between the frames of mediums whose primary aim is to entertain?
Punjabi folk singer Pammi Bai certainly thinks so. "Viewing Jatt through a narrow prism of caste is totally unwarranted. Jatt represents an agricultural community and since Punjab is an agrarian state anyone connected with farming is Jatt and our nayak. If we will not sing songs around him who else would it be? Moreover, let us not forget we sing to entertain."
Surely entertainment does have consequences. Madhureeta Anand, an activist and filmmaker, says, "Today, we are living in a culture of celebrity-hood and filmstars comprise almost 90 per cent of those celebs. Their influence and reach can't be overlooked. If it was not so, PM Narendra Modi would not need an Akshay Kumar to interview him? As for the stars, if they want a fan following of millions, if they want people to be interested in them, they will certainly have to accept and realise the impact they have and act and speak responsibly."
Indeed, often their sagacious statements, too, can draw flak but that too, "comes with the territory. Filmmakers, actors or singers can't hide behind the cloak of, 'Oh this is entertainment' and dish out whatever they wish to," she insists. Mittra though refusing to assign the role of watchdog to entertainment world, doesn't absolve them of responsibility. He, too, agrees that cinema should not unnecessarily glorify crime or other perversities and actors need to be careful about brand endorsements.
Among the many trappings of stardom, should caution be one... Either way as actor Fredric March said, "Stardom is just an uneasy seat on top of a tricky toboggan." Err on the side of caution or throw it to the wind, barbs won't stop flying. Deflect or dodge... Jatt Da Muqabala shall continue by Putt Jattan De.
---
Viewing Jatt through a narrow prism of caste is totally unwarranted. Jatt represents an agricultural community and since Punjab is an agrarian state anyone connected with farming is Jatt and our nayak. If we will not sing songs around him who else would it be? Moreover, let us not forget we sing to entertain. — Pammi Bai, a Punjabi folk singer
All readers are invited to post comments responsibly. Any messages with foul language or inciting hatred will be deleted. Comments with all capital letters will also be deleted. Readers are encouraged to flag the comments they feel are inappropriate. The views expressed in the Comments section are of the individuals writing the post. The Tribune does not endorse or support the views in these posts in any manner.