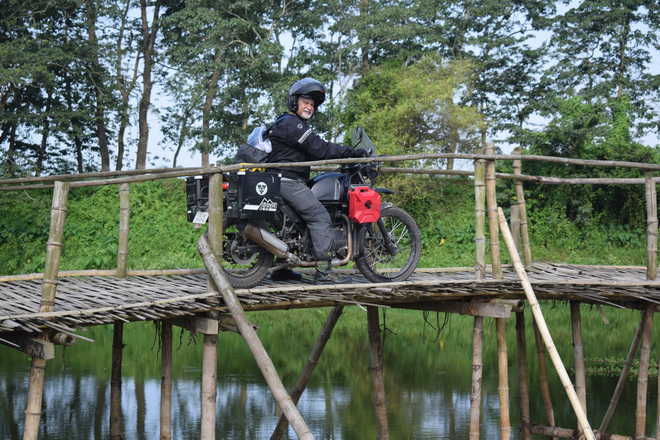 singhking99@yahoo.com
Purnima Sharma
It was a dream that went back to the time he was a teenager — of doing a cross-country solo biking trip. The following decades saw Sharat Sharma bogged down by the demands of his professional and family life. "Although I didn't mind all that, the dream remained — waiting to be brought to fruition," smiles the 61-year-old former journalist. Work towards it commenced about eight years ago when, on an impulse, he got home a cruiser despite not having driven a bike in more than two decades.
No sooner than it appeared in his driveway, family and friends started talking about how motorbiking is not for old guns like him. "Why should this vehicle be associated only with the youth? As long as one is healthy, anyone can ride a motorbike — for nothing makes you feel more alive and happy than doing that," asserts Sharma, who completed his eight-month 30,850-km-long expedition across the country after his retirement.
Biking comes of age
What is it about men and these mean machines is a question often asked. From around the middle of the last century, mobikes came to capture the popular imagination, especially because of the non-conformist, maverick attitude they came to represent. Being the opposite of the "safe and staid four-wheelers", they seemed to add an innate cool quotient in the person, who swings his leg over the seat, twists the throttle and zips off.
Although Chandigarh-based Robin Nakai loves both his SUV as well as his bike, the scales tip more in favour of the latter. "We've always had a bike at home," says the 66-year-old, who hops on to it and "disappears somewhere into the horizon" every few days a week. "In my younger days, biking hadn't really come of age. One can easily say that now it has," he smiles. Day trips around the mountains is what this "gentleman at large," who is also a keen photographer, prefers. "The areas here give me enough time to do 100-150 km in a day, savour the landscape, come home and sleep in my own bed." Calling himself a lone wolf, Nakai steers clear of packs "since that gives me enough freedom to stop where I want to relax, chat with the locals and click my pictures whenever I see a good spot. In a group, you can't do that because it would disturb the pack formation."
Having picked up his mean machine over three years ago, ace photographer Amitava Dasgupta also plans to hit the dirt trail soon. Giving him a thumbs-up is his wife Piyali, who is happy that her 52-year-old husband has "rediscovered his biking obsession after more than 20 odd years". Post-50 is the time to get back to activities you missed indulging in because of work and family pressures, she asserts.
And now, with plans of doing the Himalayas soon ("I often dream of cruising down to Ladakh and Kinnaur"), the Delhi-based Amitava has been busy kitting his bike for the big journey ahead. "Having grown up watching Indiana Jones and many war movies, I seem to have inadvertently given it a tough, rugged appearance. And because as a civilian, I can't drive an olive-green hued bike, my bike has the look of a US Army vehicle," he says with pride.
Sure enough, times are a-changin'. From a time when people in their forties were deemed old, those in their fifties and sixties are now becoming the epitome of youthfulness.
"Yes, the very definition of youth has changed," says psychiatrist Simmi Waraich. "And why not? If youngsters today can take a break to follow their dreams, the older lot is equally entitled to do so. And with the growing confidence that comes naturally with age, they are thinking in terms of self-actualisation and moving towards activities that promise to make them happy and fulfilled."
Love rekindled
Pali Anand, who called it quits from the Merchant Navy some years ago, couldn't agree more. Passionate about motorbiking from the time he was in his early twenties, his affair with the bike was called to an abrupt halt by his wife who sold it off when he was once away sailing. "That's because I have had a few smash-ups, and although upset, became resigned to a life without my bike," smiles the Chandigarh-based 68-year-old. And then, about seven years ago, after he had settled down to a relaxed, retired life, his wife gifted him a Harley Davidson. "I think Komal felt I had really been missing riding my bike these 30-odd years. Also that being older now, I would be more responsible with it," laughs Anand, who may no longer go on long rides the way he once used to but enjoys driving it around on his farm and the neighbouring villages. "It's amazing the sense of exhilaration I experience the moment I'm on the bike. It remains the same as it was in my younger days," he adds.
Sushil Sunny, a tour escort for foreign guests, who had been wooed by the rugged charisma of a bike from the time he was 18 exalts about the "sense of freedom and synergy that motorcycling gives you". 50 years later too, it remains the one constant factor in his life. "I often joke that he learnt to ride a bike even before he could walk," says his wife Shashi, who never fails to rag Sunny about spending hours cleaning and shining his two cruisers himself. "It works like meditation for me," adds the 68-year-old who has never enjoyed driving a car. And this holds true even when the couple has to attend a formal do. "Yes, there have been times when I have walked in with wind-blown hair, and dust and grime on my face at a wedding, courtesy his bike obsession," laughs Shashi.
Biking for Sanjay Chadha, too, remains synonymous with independence and living life on one's own terms. "And yes, exploring new worlds," says the 54-year-old engineer.
Having changed more than seven bikes since he first took off as a teenager, Chadha now has three "rumbling sculptures" that have seen him undertake some of his most challenging rides lately — to Spiti in winter and areas beyond Badrinath where his and his fellow riders' bikes kept skidding and getting stuck in the snow. "When my friends here wonder what makes me indulge in such daredevilry, I have just one reply — that it's all to do with bikes and the way they make me feel — young, energetic and adventurous."
Grey hair & bikes go together
Biking does make you "feel like a changed man" insists Sharma and laughs talking about the bystanders' reactions the moment he brings his bike ("they're obviously admiring") to a halt and removes his helmet. "It turns from surprise to shock and vice-versa. Maybe because grey hair and superbikes, especially in India, don't go together." While motorcycling may seem to be fun and comes with a high cool quotient, Nakai insists it mustn't be taken lightly. And his warning to the older riders ("or even youngsters for that matter") who are increasingly taking to motorcycling after many years remains simple. "Remember biking is a complicated process, so always be prepared and avoid risks. Besides a well-looked-after machine, you need to be totally kitted out, have the correct mindset and not be a hazard on the road. You may think you're Mike Schumacher's brother but the people, dogs and other animals on the road, don't care who you are."
All readers are invited to post comments responsibly. Any messages with foul language or inciting hatred will be deleted. Comments with all capital letters will also be deleted. Readers are encouraged to flag the comments they feel are inappropriate. The views expressed in the Comments section are of the individuals writing the post. The Tribune does not endorse or support the views in these posts in any manner.